EN (French below)
"Bli Bli Dressing" APP:  A SOLUTION TO FAST FASHION POLLUTION
We discovered them at the end of 2021 when they were selected to join the Circular Economy Incubator cohort. They were chosen out of a hundred participants, and whilst still in their debut construction phase, they convinced our jury with their innovative solution to fast fashion waste.
The App "Bli Bli Dressing"  is a family-owned business that facilitates the recycling of clothes in particular Fast Fashion. The application secures the connection between buyers and sellers by distinguishing itself with an exchange process via local shops serving as relays. The result is a stimulation of the local economy by supporting small traders and the elimination of the delivery of goods, which has a direct impact on pollution.
With the support of the incubation programme and their perseverance, their idea became a reality within a few months. By the end of the programme, they were awarded the jury prize: of 1:1 coaching with WeMakeIt, to launch their crowdfunding campaign.
Bli Bli Dressing later won the competition to participate in the Impact Fund 2022 of WeMakeIt and won 3'600 public votes followed by their winning of the jury of experts. They are now preparing for the next step with crowdfunding to raise funds for the development of their App. Furthermore, they will defend their project in front of the judges for Agenda 21, Cantonal Sustainable development in Geneva.
As Régis, co-founder of Bli Bli Dressing told us:

"It's important to keep up with the times and stay innovative, but let's not forget to be responsible. It is no longer a question of a seller-buyer transaction! The alternative we are proposing is slowing down the expansion of fast fashion by giving clothes back a loop without forgetting the small traders. It is for the first time a 100% Local and a Global solution"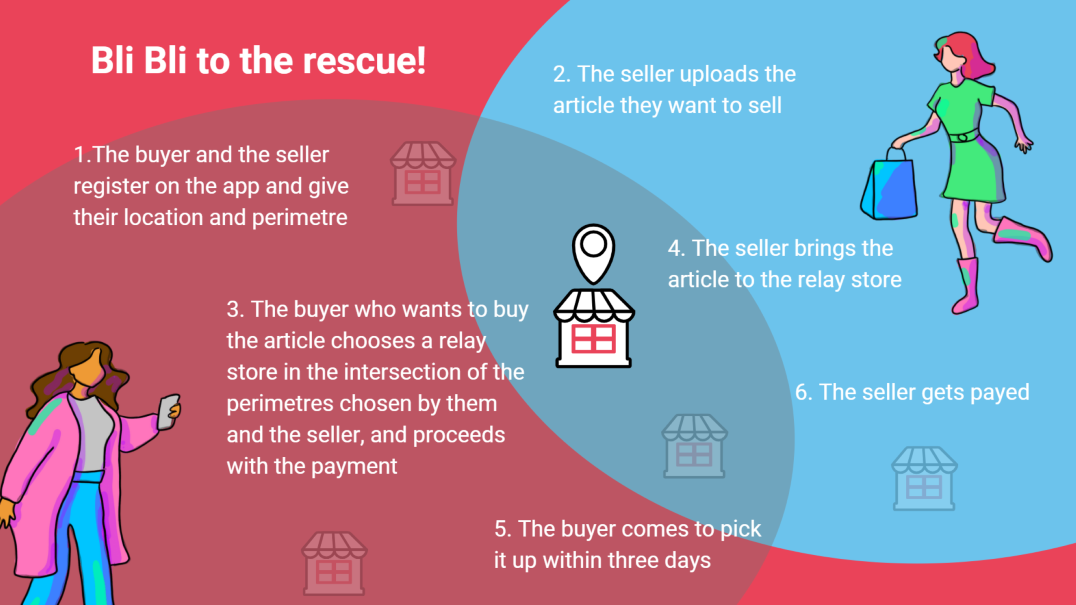 –––
FR
L'URGENCE D'UNE PROBLÉMATIQUE MONDIAL
Deuxième industrie la plus polluante au monde, après celle des énergies fossiles, la Fast Fashion continue son expansion tandis que les problèmes écologiques ne peuvent plus être cachés dans le placard. En parallèle, le développement du E-commerce pose de nouvelles problématiques, comme la destruction de nombreux emplois liés au commerce traditionnel et l'augmentation accrue de la pollution causée par les transports des marchandises.
L'APP "Bli Bli Dressing" INNOVE FACE AU FAST FASHION POUR UN DÉVELOPPEMENT PLUS DURABLE
Alumni de notre Incubateur d'Économie Circulaire 2022, une famille genevoise offre une alternative plus responsable qui redonne de l'espoir.
Quand il s'agit d'économie circulaire,on ne peut plus penser qu'en termes de fabrication et consommation ; il faut trouver une solution pour remonter la chaîne pour ainsi créer une boucle durable dans le temps. La réutilisation d'habits venant de la Fast Fashion devient un vrai défi pour la team Bli Bli Dressing.
Et ils ne se sont pas arrêtés là! Solution innovante et originale, une application qui sécurise la mise en relation des acheteurs et des vendeurs en se démarquant avec un procédé d'échange via des magasins locaux servant de relais. Résultat des courses : stimulation de l'économie locale en soutenant les petits commerçants ainsi que suppression de la livraison de marchandise, ce qui a un impact direct sur la pollution.
UNE AVENTURE QUI NE FAIT QUE COMMENCER
Nous les avons découverts fin 2021, lors de la sélection pour rejoindre la cohorte de l'Incubateur d'Économie Circulaire. Choisis sur une centaine de participants, même sans logo ou prototype, ils ont su séduire notre jury avec leur solution locale et novatrice face aux gaspillages de textiles. Grâce à notre programme d'incubation, ils ont été suivis durant 3 mois par des coachs et ont participé à des meetings avec des experts de différents domaines, comme des spécialistes en finance ou en économie circulaire. En quelques mois l'idée s'est concrétisée ; la maquette de l'application écologique et le projet des magasins de relai étaient enfin prêts! Suite à cette avancée, Bli Bli Dressing s'est vu attribuer le prix du jury : un coaching avec WeMakeIt.
Considérés comme des facilitateurs de consommation responsable, les membres de cette équipe de choc ont plus tard remporté le concours pour participer à l'Impact Fund 2022de WeMakeIt en étant plébiscité par le public de plus de 3'600 personnes puis par le jury d'expert.e.s. Ils se préparent dorénavant pour la prochaine étape qui est le crowdfunding, où ils auront l'opportunité de gagner des fonds pour le développement de leur App. Le début de la campagne commencera autour de septembre-octobre, donc restez connecté!
En parallèle, ils se sont intéressés au concours cantonal du Développement Durable de Genève s'inscrivant dans le cadre de la mise en œuvre de l'Agenda 21 cantonal. C'est en mi-juin qu'ils iront défendre leur projet devant des juges.
OEUVRER À UNE TRANSITION VERS UN MONDE PLUS DURABLE, C'EST POSSIBLE !
En encourageant les gens à prolonger la durée de vie de leurs vêtements via la réutilisation, leur solution sensibilise à la consommation responsable et à l'action pour le climat. Bli Bli Dressing se montre durable et utile pour les consommateurs, l'économie et l'environnement. En soit, elle impulse une synérgie gagnant-gagnant.
Comme nous l'a confié Régis, co-créateur de Bli Bli Dressing :

"Il est important de suivre l'avancement et de rester innovant, mais n'oublions pas d'être responsable. Ce n'est plus une question de transaction vendeur-acheteur! L'alternative que nous proposons freine l'expansion de la Fast Fashion en redonnant une boucle aux habits sans oublier les petits commerçants. C'est pour la première fois une solution 100% Locale et Globale."