Duration: to be defined
Location: Impact Hub Geneva
Price: free
Registration: alone or in group
At Impact Hub, we aim at making Geneva healthier and more sustainable. With this objective in mind, we co-organize with the City of Geneva and the Canton of Geneva the Climathon.
The objective of Climathon Geneva is to support the Cantonal and City Climate Plan, by bringing together citizens and organizations from the private and public sectors around the issue of climate change, in order to promote innovative solutions and support the creation of new projects.
The challenge of this year's Climathon is directly linked to the canton's ambition to reduce its environmental footprint, notably by reducing greenhouse gas emissions by 60% by 2030 compared to 1990, and to aim for carbon neutrality by 2050.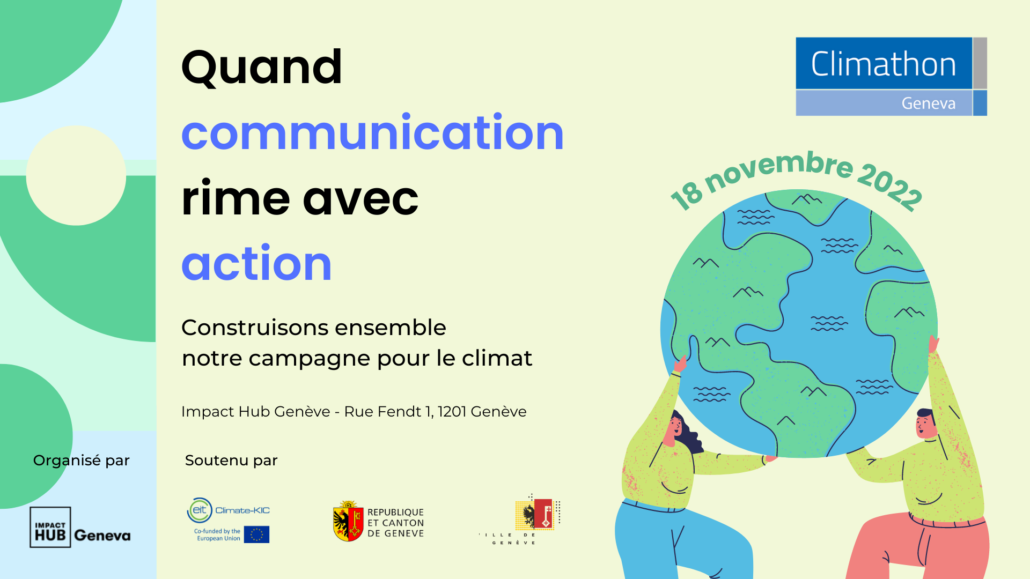 Carbon neutral future of Geneva 2050
When communication rhymes with action 
In order to create a better future and quality of life, More people in Geneva are willing to make changes to attain an improved air quality, green spaces, less noise and stress and a more healthy and balanced lifestyle. This year's Climathon raises very important questions regarding this topic.
Who are the influencers, and ambassadors who can raise awareness and amplify actions on the ground? Who are the ambassadors of climate issues and how to engage them to get involved in these climate issues?
What are the obstacles and opportunities of the different partners on the Geneva territory and of the factors influencing behaviours and the margin potential?
How to engage young people in climate issues and set up regular intergenerational dialogues and report concrete actions together?
How to measure the effectiveness of an awareness campaign? What indicators are important to you?
How can we provide a communication assistance offer for actors who do not have the means but whose mission makes it possible to raise awareness among the general public (grants, financial aid, mentoring, expertise, a common fund, etc.)?
What kind of platform can be created to give visibility to all actors and their solutions?
All these questions and more, are the main concern of this year's Climathon. So will you be able to rhyme communication with action? 
12:30-13:00: Doors opening
13:00-13:30: Welcome & let's find your dream team!
13:30-14:30 – Phase  #1: Co-create your climate action campaign concept
14:30-15:15 – Phase #2: Identify strategic climate partners & reflect on the win-win partnership to build an impact network
15h15-15h30: Let's recharge our batteries!
15h30-16h30 – Phase #3: Define impact measurement & consolidate
16h30-17h30: Pitch your idea & strategy
17h30 -19h00: Networking & Apéro… Cheers!
What to expect for these 24 hours?
In teams of 4 to 5 people, you will follow a "Design Thinking" process, a human-centered innovation management methodology initiated at Stanford University, and you will be asked to support your concept in a pitch format.

Validated by a jury of local experts, the winning teams' solutions are intended to be deployed on a real scale, with the support of the organisers and partners.
The challenges of the past 2021 edition:
"Imagining Geneva's carbon-neutrality in 2050″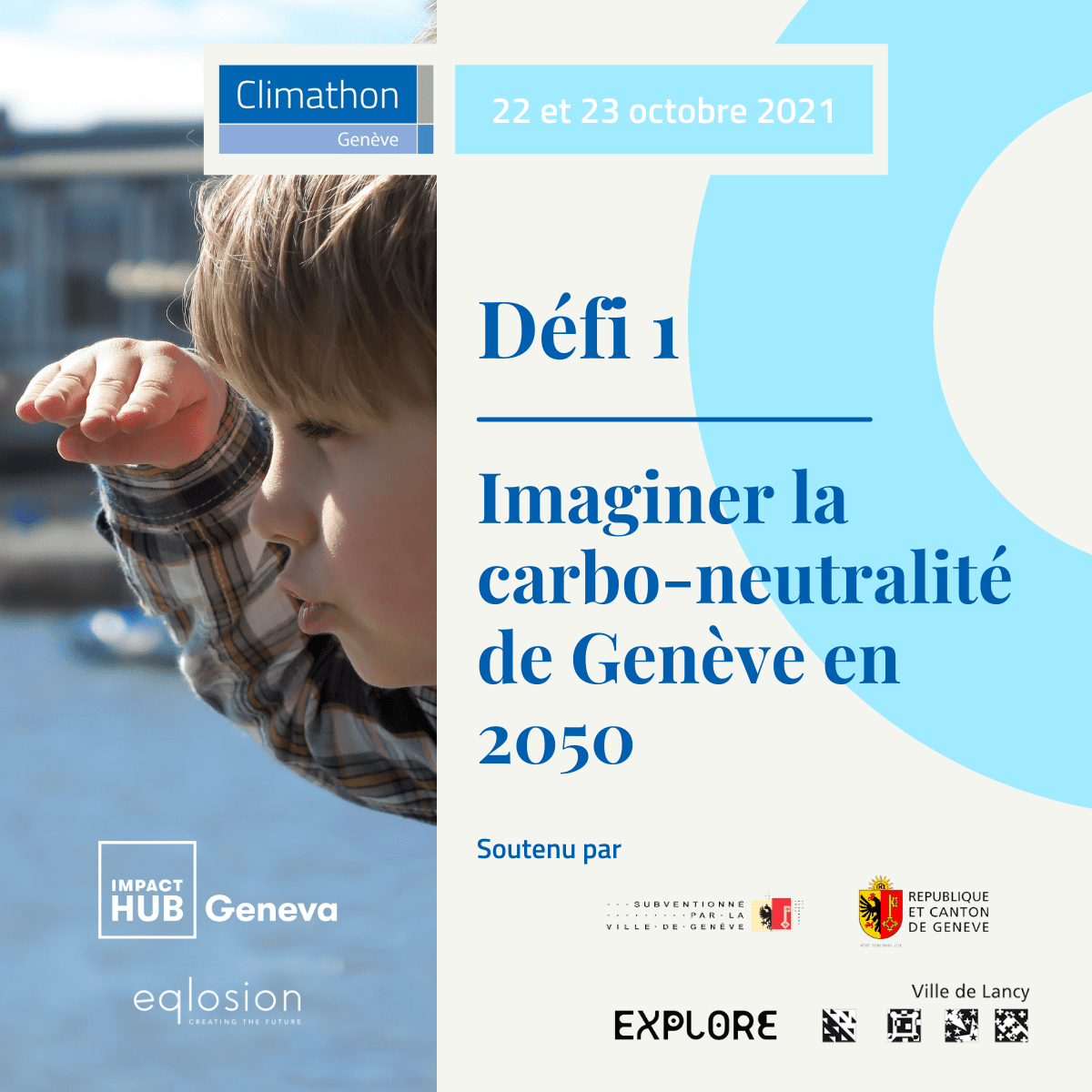 Despite the growing number of solutions for achieving carbon neutrality, the scale of the work required to reach this goal remains elusive.
It is therefore more than necessary to imagine what a world where humans emit virtually no greenhouse gases will look like in the future. 
After having consulted experts, the Canton is now turning to its citizens to imagine possible futures. It invites you to create and share your vision of a carbon-neutral future in 2050 during the 2021 edition of the Geneva Climathon.
Shifting polluting activities to less carbon-intensive sectors or changing social norms and consumption behaviours, you can move in the direction that speaks to you most in order to hack this challenge.
"Second-hand market: an opportunity to promote sustainable fashion"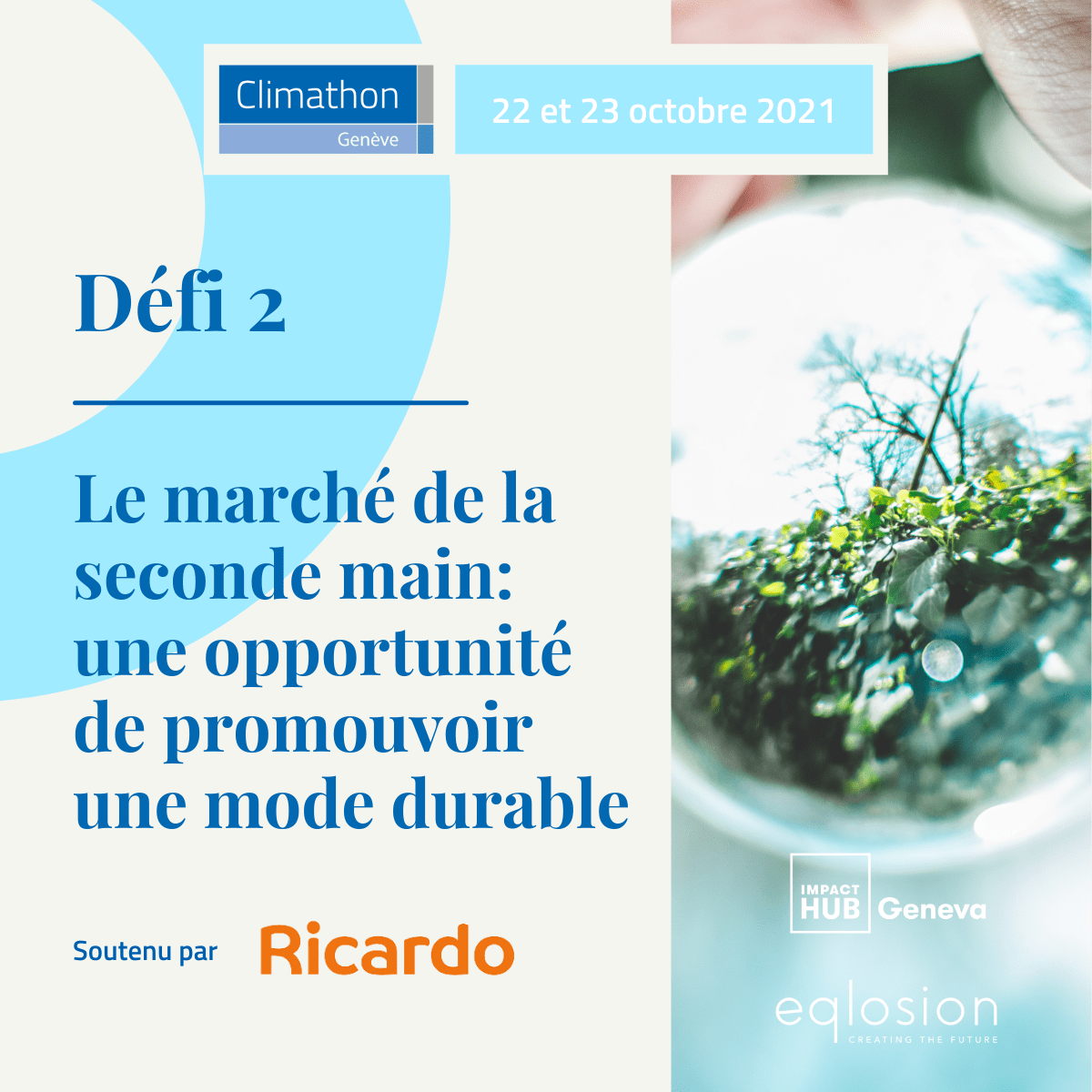 The fashion industry generates about the same emissions as the entire global airline industry.  
The secondhand / vintage sector is increasingly challenged – and plays an important role – in providing solutions to reduce the global waste of natural resources and to reduce its CO2 footprint. 
With this challenge, you will have the opportunity to look at the circular economy, including sustainable fashion, through the second-hand market. More precisely, you will explore and find new ways to get more people interested in and excited about secondhand fashion. 
Through ideation, the objective is to find new solutions that keep vintage clothing into active use and thus reduce the need for new goods to be produced in the first place.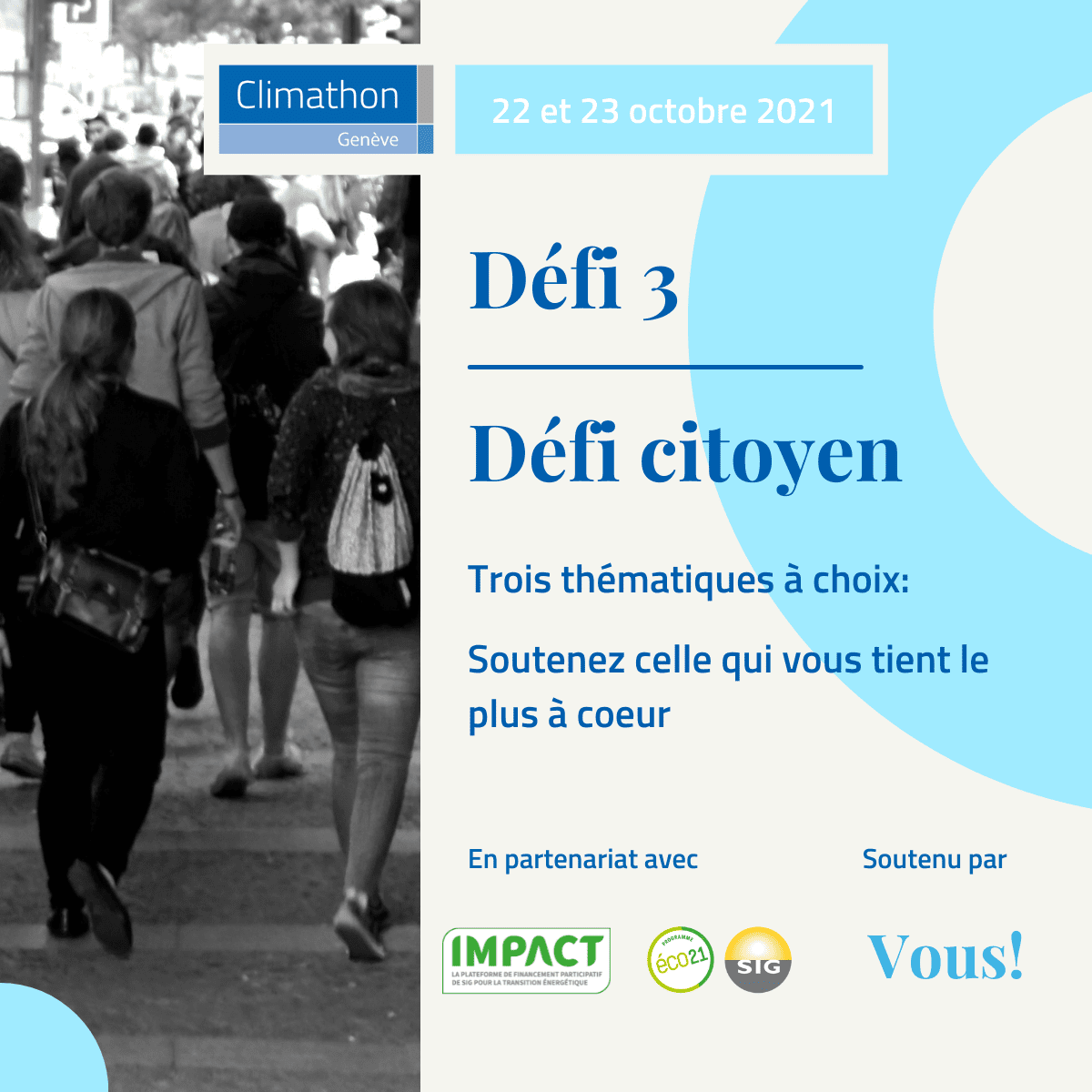 URBAN AGRICULTURE – ACTORS ENGAGEMENT – BLOCKCHAIN and SDGs

With its 3 themes submitted to a crowdfunding process, in partnership with SIG-Impact, the Citizen's Challenge gives voice to the citizens of Geneva so that you can decide your climate priority.
Support one of the 3 themes of this challenge :
The challenge that first reaches the 100% funding target will become THE Citizen Challenge to hack at the 2021 edition of the Geneva Climathon.