It's been a busy September and October for the Accelerate2030 team, who were in New York for the United Nations' General Assembly, and hosted the Accelerate2030 Scaling week at Impact Hub Geneva.
In the end of October Impact Hub Geneva was buzzing with enthusiasm and excitement, discussions and networking possibilities. It was time for the SDG Factory, the culmination point of the Scaling week for the Accelerate2030 program.
In reality, it has not just been a busy week or a busy month for the team, but a busy autumn. In September, the Accelerate2030 team took the program to New York, to the United Nations' 73rd General Assembly, and hosted an event on nurturing entrepreneurial ecosystems for the Sustainable Development Goals (SDGs).
– Geneva is definitely one hotspot of the program, but New York, is another, tells Ljupka Mitrinovska, co-founder and program manager at Impact Hub Geneva.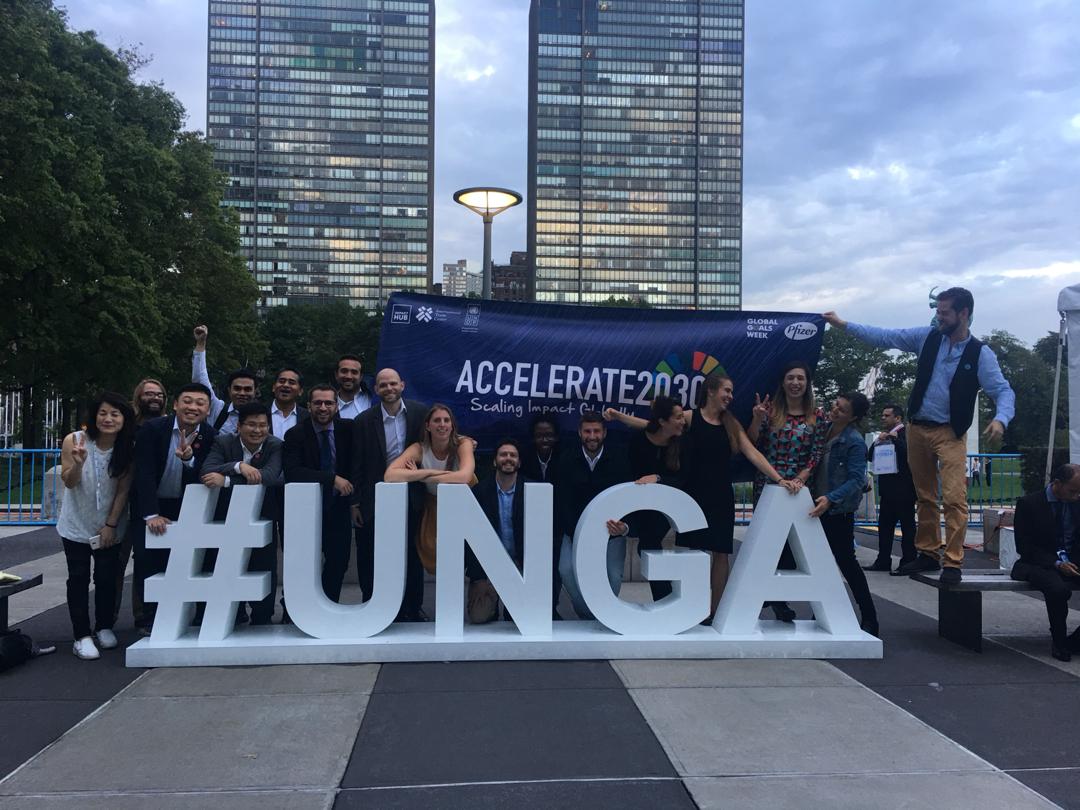 After New York, it was time to work on the Scaling Week in Geneva. The 5 impact-driven entrepreneurs selected by Accelerate2030 took part in the Social Good Summit, and finally in the SDG Factory, which was organised for the second time. This year it included the presentations of the participating entrepreneurs, a panel discussion and workshops.
– We already have 50 partners all over the world and we have scaled Accelerate2030 in 19 countries. In 2019, we aim to launch the next edition in 15-20 locations, Ljupka Mitrinovska summarises.
– Entrepreneurs should be higher on the social development goals agenda, she states.
So let's hear it from the participating entrepreneurs. What has Accelerate2030 given you so far?
Francis Obirikorang, CEO of AgroCenta, a web and mobile platform that connects farmers, transporters, sellers and buyers in agro industry in Ghana.
"It's been a learning experience. If I think of my last years pitch which I made when applying to the program, and it's really been a learning curve from there. We get resources and learn to avoid pitfalls. Also, partnerships and collaborations are very key to us."
Rachel Sklar, CEO of Pit Vidura, a holistic solution that offers tools, education and platforms for safer and affordable services in sanitation in Rwanda.
"Programs like Accelerate2030 have really helped with the discussion with government partners. This kind of endorsement and collaboration are very valuable."
Diana Quintero, Co-founder of Bive, a mobile application which connects patients and doctors in rural areas in Colombia, to offer affordable healthcare.
"I have really appreciated networking and getting to know people. I understand better now, how different stakeholders impact on one another. For me as an entrepreneur, it's been valuable to have a bigger perspective. "
Like Kali Taylor from UNOG Geneva put it during the panel discussion: "If you want to go fast, go alone, if you want to go far, go together!"
Learn more about the Accelerate2030 program here. Applications to join the next edition of the program open early 2019.