Every start-up should have a communications plan.
No reason to worry: it can be drafted in a couple of hours and it will end up saving you a lot of time and headache.
You only need to answer these 4 questions.
You have created an innovative solution, a ground-breaking product, a cutting-edge technology or life-changing service? Good job! Now all you need to do is to make sure that the world knows about you and your company.
This is where communications come in. With a solid strategy and consistent effort, impact communication helps you spread the word about your innovation, gain credibility and in the end, improve sales and create long-term customer relationships. No matter if you're selling a small-scale physical product on the domestic market or a scalable service solution globally.
And better yet, you don't need a big, fancy comms team or a huge budget. You can create – and execute – a complete communications plan  with little resources, while you're putting your energy into business operations.
Question NO 1: On which platforms do I spend my time?
Social media is fun and you already have your personal Facebook, Instagram, Pinterest, Twitter and Snapchat accounts, so let's just go and open all those for the company too! After a month, you get tired or swept away with other business emergencies and let the accounts face a slow death.
Or maybe the other extreme is true for: you don't understand that much about social media and you just open the accounts and then forget all the passwords and let go.
Whichever extreme you fall into, the cure is the same: niche down to one or two main channels and show up once or twice a week. Once you've got this handled, grow your presence steadily. Trying too much too soon is the quickest way to kill your comms plans.
Question NO2: How will I gather data?
Once you have your channels in order, you need content. One simple and very quick way to create added value to your followers and shedding positive light on your company at the same time is sharing your key success figures with your audience.
Start gathering numeric data as soon as you start selling your product or service, and communicating your success through numbers regularly.
One important thing to keep in mind when choosing the figures you share is to pick numbers that are directly related to your mission. If your goal is to save water through a specific technology, it's barely relevant how many people you've reached through social media. However, your follower count is relevant, if your mission is to raise awareness on water saving.
Question NO3: Which stories can I tell?
I guess I made my point earlier: numbers are important. But the figures can only get you so far.
In addition to showing your success in numbers you need to show what they really mean. This can be done through stories. Tell stories about your customers, about how they use your product and most importantly, how it's changed their lives.
This, too, can be done with little effort from day one. Just set up a system to gather your clients' stories and use them, one at a time, in your communications and marketing.
Question NO4: Do I need an impact report?
Now, everything mentioned earlier is something you can do little by little, every week and every month.
But there is one thing you should do once a year: an impact report. It's either a printed or digital report that shows exactly how you've made a difference. This can be done at the end of your first year already, and again with little effort.
The impact report creates credibility among customers and investors. It shows you're a relevant actor in the field,make things happen and accomplish the goals you've set for your company.
Question NO5: How to do all that?
So now you know what to do and where to focus your efforts. If you feel you still need more support on how to do all that, sign up for my free content series Easy Impact Communication. You will receive each week a new piece of content which helps you make your choices, niche down and most importantly – save you time and a lot of headache.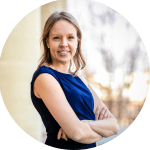 Pauliina Rasi is a member of Impact Hub Geneva and a communications specialist. Her mission is to empower start-up entrepreneurs take their company's communication to the next level, without stress and strain. More info: www.pauliinarasi.com
The quest for the best social innovations begins!
The Accelerate2030 program launches its third edition in collaboration with the United Nations Development Program!
Exciting times for Impact Hub Geneva as we collaborate with the UNDP for the third year running! Today we launch the third edition of #Accelerate2030, a global scaling program designed for entrepreneurs driving innovative and scalable solutions to the world's key challenges, including poverty, clean water, health and wellbeing.
Since the launch of the #Accelerate2030 program in 2016, its mission is to identify and support the most promising entrepreneurs who work to make the Sustainable Development Goals (SDGs) a reality. To-date the program has received over 500 applications, supported 80 ventures on both national and international levels and welcomed selected high-impact ventures to meet  with investors and corporates at the Social Good Summit Geneva and the UN General Assembly in New York.
It's clear that these entrepreneurs are helping us work toward the achievement of the SDGs too. For example PiiPee, a Brazilian venture lead by Ezequiel Vendana, has saved 65 million liters of water since joining the program, thanks to his innovation that allows toilet flushing without freshwater. Hear X has scaled across over 25 countries globally allowing thousands of children  with hearing disability to access quality education with the help of a simple and affordable mobile phone app. Whole Surplus organises and distributes leftover food in Turkey and by donating 231'250 meals and distributing 74 tonnes of food he has allowed to prevent 240 tonnes of CO2.
Through #Accelerate2030, high-impact ventures have the opportunity to develop, test and validate their journey to scale. The number of end beneficiaries of the supported ventures has increased dramatically – by 108%! There is also a clear increase in employment – 41%, and a 52% increase in female employment specifically.
Of course there is more than the numbers to it –  real sustainability needs to be embedded in the organisation on every level. The  ventures have told us that the program helped them make the Sustainable Development Goals a part of their business strategy:
"We integrate social impact and the SDGs in our investment proposals, as we realise it is important in attracting clients and funding", says Olcay Silahli from Whole Surplus.
"I started the program with the vision to make the company grow. Today I am much more focused on how we can impact more", says Ezequiel Vendana, CEO and founder of PiiPee from Brazil.
#Accelerate2030 expands the concept of sustainability to the entrepreneurs and leaders themselves, and thanks to the leadership and resilience training the participants receive, they feel their leadership skills have significantly improved, as well as their self-confidence and work-life balance and the ability to lead their venture.
"The most important finding for myself throughout the program was that I realized entrepreneurial success is not just about business results in the short term but we also need to look longer term and care ourselves. #Accelerate2030 gives entrepreneurs the real global perspective on impact driven thinking", says Olcay Sihlahli.
Results so far,  are the reason we are very proud and happy to announce the launch the third edition of #Accelerate2030 This year's edition will concentrate especially in the SDG 3: Good Health and Wellbeing and SDG 6: Clean Water and Sanitation. The program starts with a national scale-readiness program in 16 developing and emerging economies, from Mexico to the Philippines. Like during the previous editions, the ventures with the highest scaling potential will be invited to the Global Scaling Program, including a one week bootcamp in Geneva in October 2019, where they will participate in the Social Good Summit and have an opportunity to create strategic partnerships that help them scale their business globally.
For more information, visit https://accelerate2030.net/ or connect with us on social media, through Facebook, Twitter, LinkedIn or Instagram.
Hey folks! How is your January going? If you followed our tips from this post, your year should have started pretty well. I hope that's the case.
Just before the holidays, we shared our team's and members' favorite apps for task and project management, scheduling and productivity. But let's be honest, good apps only get you so far. You still need a good amount of self-discipline and good work hygiene in order to be productive and get rid of procrastination, when there is no boss breathing down your neck and watching over your shoulder.
So let's turn back to the infinite wisdom of the Impact Hub Geneva's community. They know how it's done!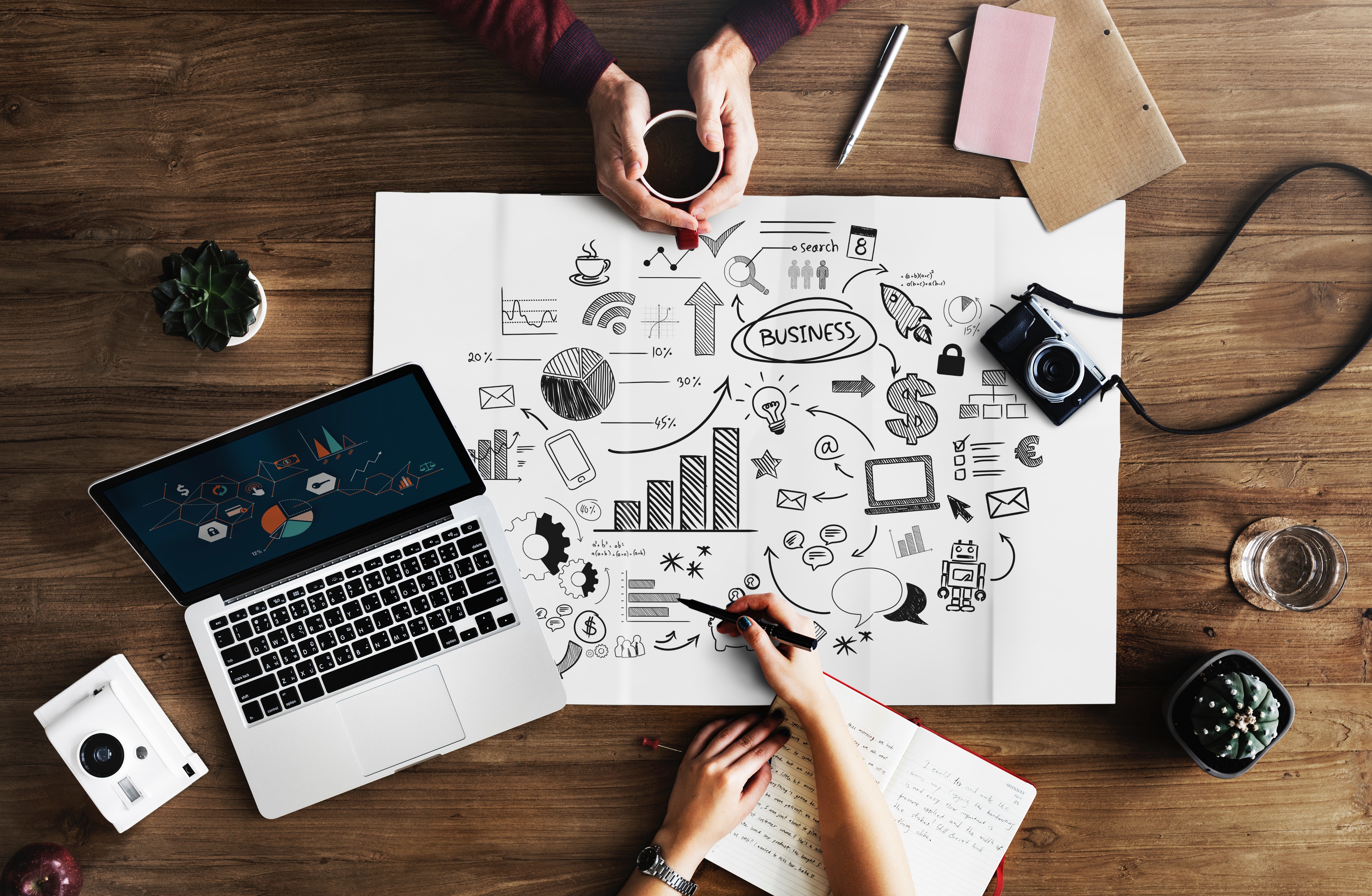 Step 1: Meditate in the morning
When asked how they improved their productivity, the number one answer was meditation. Either in the morning, either in the middle of the day (on Wednesdays at lunchtime we offer Mindful Mercredi guided meditation at Impact Hub!),  it doesn't matter. Like our Prix-Iddea winning start-up entrepreneur Anne-Julie Beroud put it: "If I manage to meditate in the morning, my whole day is more efficient."
Step 2: Automate and outsource
If you decide to invest your time and energy on the apps we recommended, bear this in mind: you will probably need a few weeks in order to see how a certain programme, app or service suits your needs. It will take at least 21 days to form a habit. If you don't like your new system the first or even the second day, give it time. Many apps and services offer a free trial. In two weeks or one month you will be able to see if the paid version is worth your while or if the free plan is more than enough for you.
Step 3: Plan & timeblock
Every morning, take 5-10 minutes, sit down with your oat milk latte or herbal tea and decide which are the most important priorities of the day. List them and block a certain amount of time for every task. You may be surprised by how well your tasks fall within the timeframe you give them. And if it really does not work, at the end of your timeblock, move the rest of the tasks to next day's to do list.
Have daily urgencies that are hard to schedule? Block one or several moments throughout the day to deal with them.
Step 4: Turn off notifications
On the same note: block a few moments in your day to deal with emails, instant messages, social media feed and all other small notifications that pop up to your screen every 3-5 minutes. And once you've dedicated a certain moment to deal with them, turn the notifications off.
What do you think about these tips? Completely useless or ready to try them out? Let us know in the Community App. And give a chance to Mindful Mercredi, maybe next Wednesday?
Anne-Julie Beroud, an entrepreneur and a member of Impact Hub Geneva, won the IDDEA award in December with her project La Corde A Linge, "Clothes Line".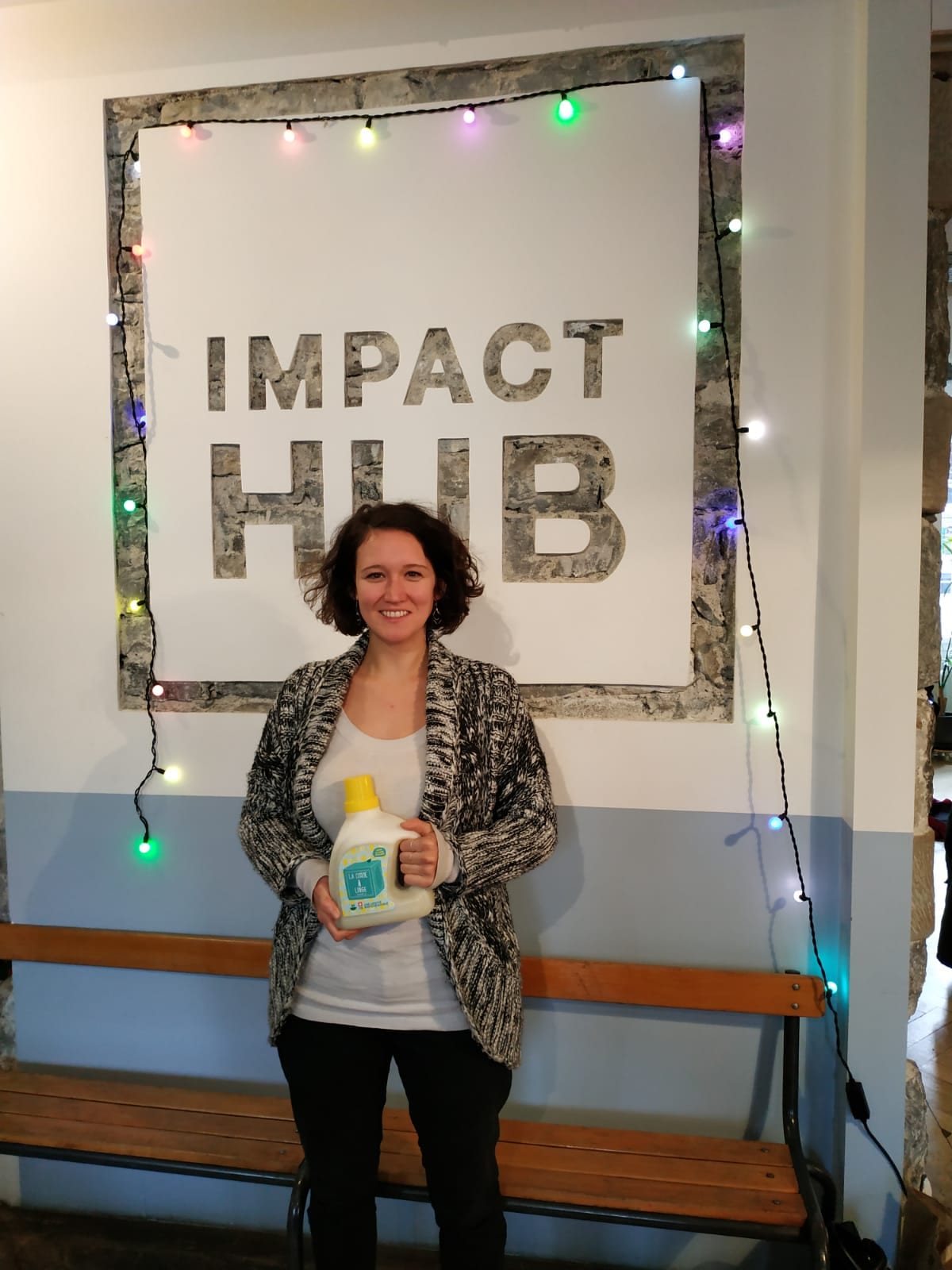 Anne-Julie Beroud is a woman with a wonderful idea: she has singlehandedly created a laundry detergent that is environmentally friendly. Her business idea is so bright that she just won the IDDEA award, that is the sustainable development award of the city of Geneva.
Here's how her idea was first born:
"It all started 3 or 4 years ago. I knew traditional laundry detergents are a catastrophe for the environment, to the lakes and rivers they end up in, and wanted to create a different option. I actually used my grandmothers recipe that combined Marseille soap and baking soda. At first I only made it for myself, but then family members and friends started asking me to make some for them, too, and I realised there might be a business opportunity there."
At the time, Anne-Julie was still working full-time as a social assistant at Hospice Général, and she continued making her detergent on the side. Then one year ago, she decided to take a plunge and become a full-time entrepreneur. She became a member of Impact Hub Geneva after having toured all the co-working spaces of the city.
"Impact Hub was clearly the best one for me, because it is the only one that takes social and environmental factors into account. And this is so much more than a working space. Thanks to networking, I have found a chemist I can ask all my chemical questions, and another member helped me to find the perfect accounting program, which saves me so much time and money", Anne-Julie lists.
Despite all the support of the community, there are naturally some dark moments in every entrepreneur's life. Anne-Julie's biggest worry at the moment is the consistency of her product, since the water and oil still keep separating from one another.
"I really hope we can solve this next year!"
Another problem to solve is the bottleneck of the production. At the moment, Anne-Julie produces all the detergent by herself in his father's printing house, but she can not produce as much as her clients would like to order. La Corde A Linge is sold directly to customers and in six shops in Geneva. Some of them sell it in bulk to clients' own containers in order to minimize waste.
Starting this January, the production will take place in Geneva's atéliers protégés, protected workshops, where it will be produced by people who might otherwise have limited access to the working market.
Anne-Julie works at the Hub two and half days a week, and spends the rest of her time in meetings all over the city. She tells Impact Hub has also inspired her by its flat hierarchie.
" I think this is something I want to apply in my company in the future. When you give your collaborators responsibility and trust in them, they will be more engaged and efficient."
Read more about our fascinating members' stories here.
Time to get back in business! Oh no, don't get anxious or stressed. Check out these tips and start your January with a happy and relaxed smile on your face.
Prepare correctly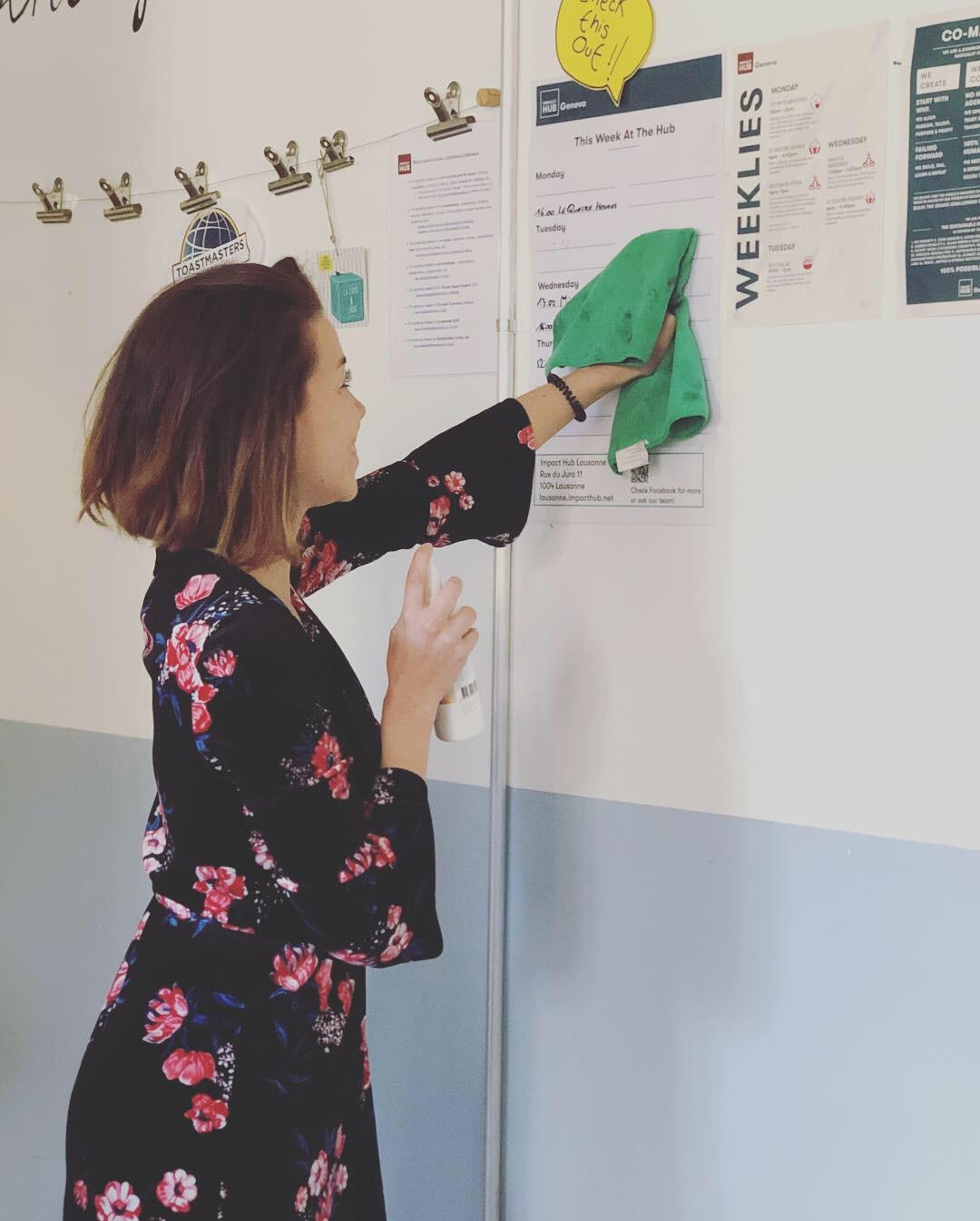 Okei, it might be a little late for that, but… When you left your office or closed your laptop before holidays, did you think of coming back at all? If you prepare a task list before leaving, it is easy to pick up where you left off a week or ten days ago. If you did not do that, take time for it first thing in the morning. Sit down, have a cup of coffee and let it come back to you. What needs to be done today?
Take a power pose
Remember a few weeks ago when we wrote about stress management techniques that help in situations like… well, today, when you come back from holidays and have a gazillion unopened emails waiting for you? Now, let's try if those techniques really work. Before attacking that mailbox, take a power pose. Get up on your feet, put your hands on your hips and have a few deep breaths. Do you feel powerful now? Then go, tackle those messages!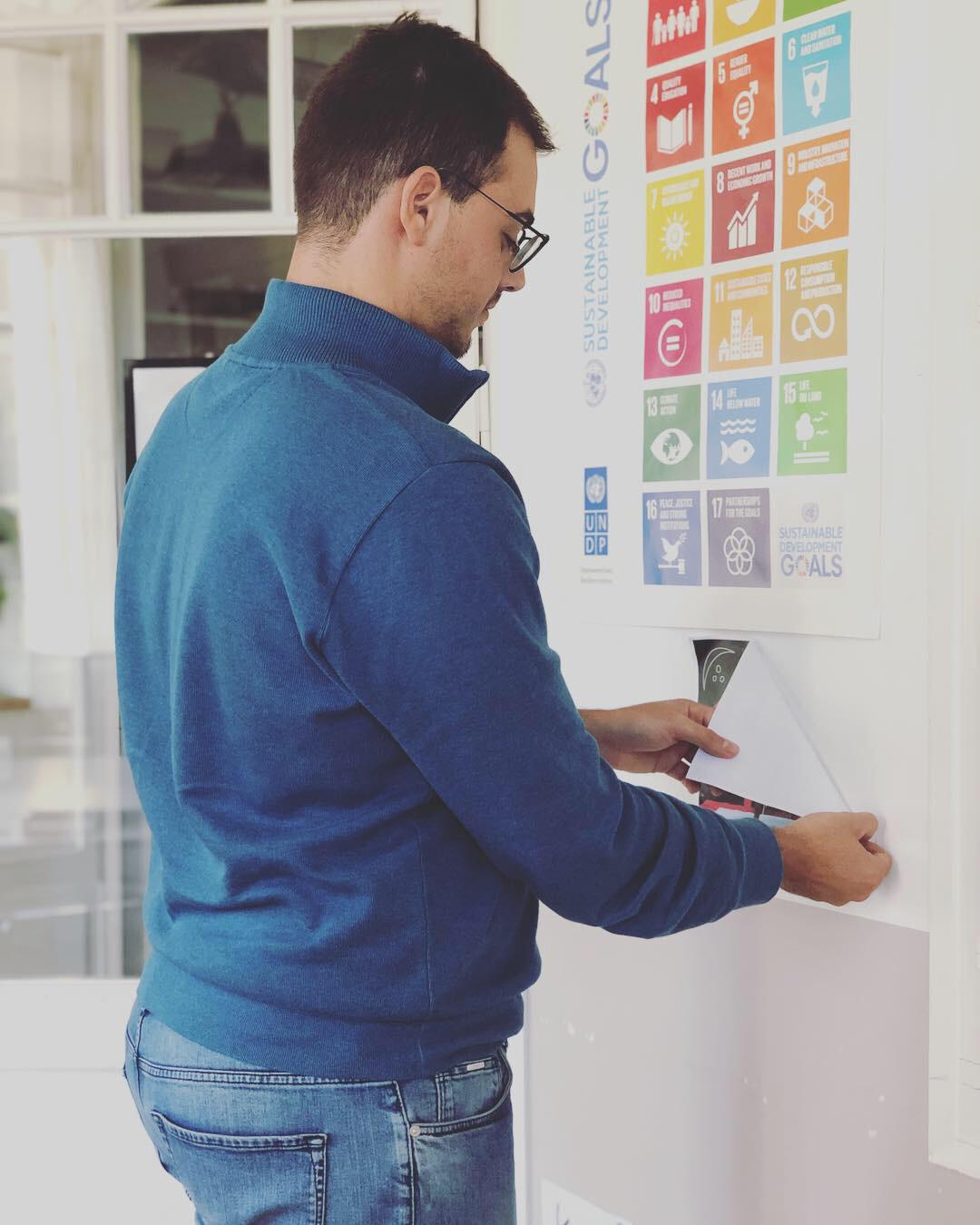 Start on Wednesday or Thursday
The first week after holidays can be tiring. Don't make it even more difficult for you by starting on a Monday. Start your week on a Wednesday or Thursday, so you only have to make it through two or three days before the weekend.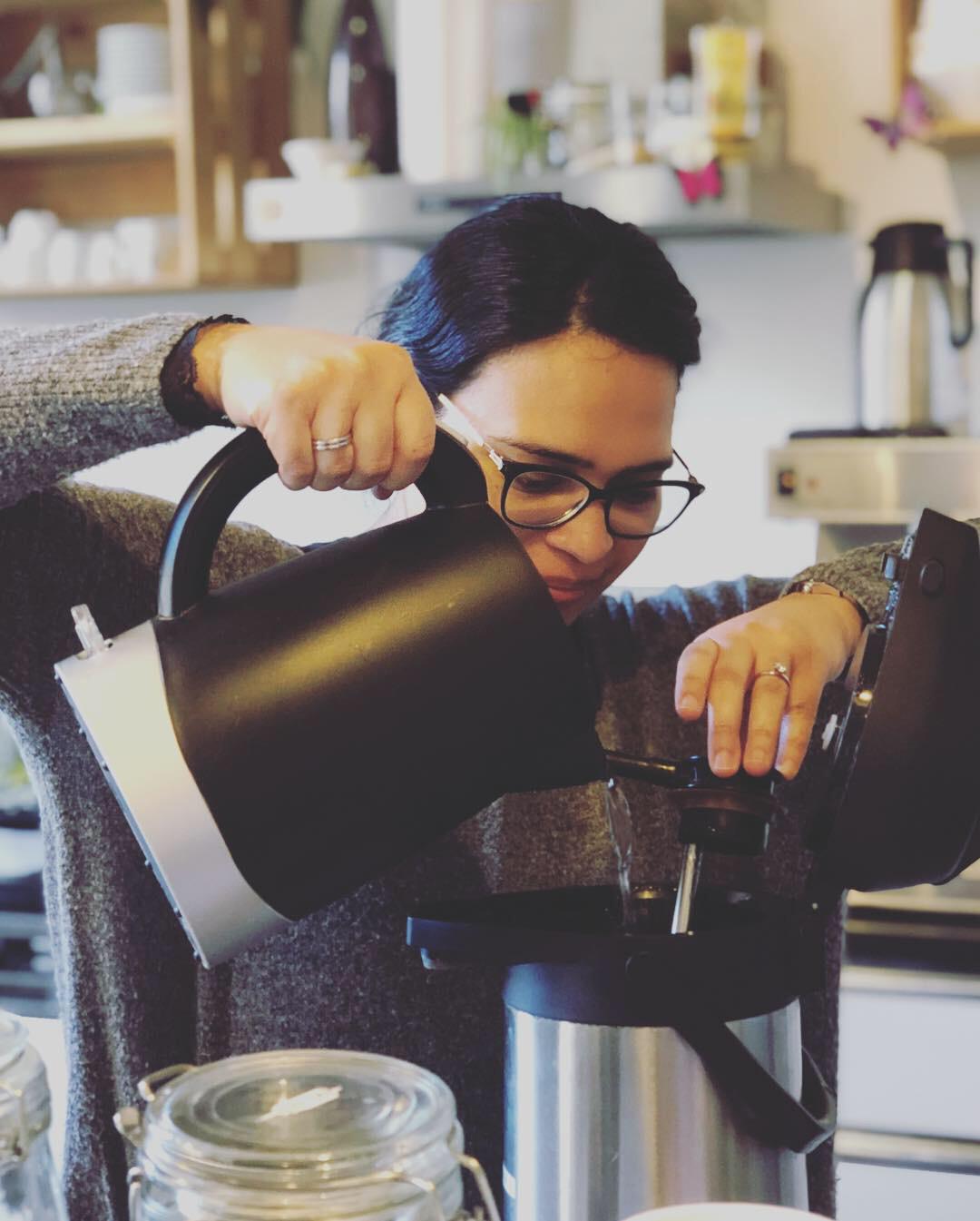 Meditate
A 20-minute meditation before your workday can help you be more concentrated and productive. It allows you to clear your head and focus on the day's work.
And the next time…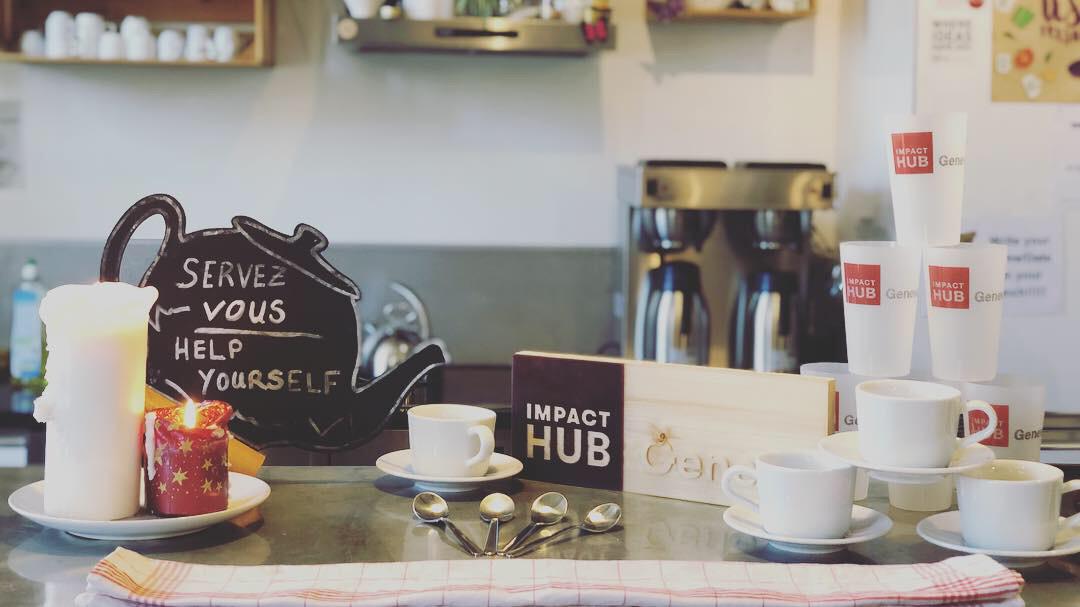 Think of formulating your out of office message a little bit differently. Time management specialists recommend something like this: "Thank you for your message. I am out of office until 2.1.2019 and do not have access to my emails. Please contact me again in January." This means you do not have
to go through every single message in your inbox with such a care and attention.
Want to have more tips and tricks for working efficiently and with joy? Head over to our Facebook Community or subscribe to our newsletter. We also have a new coffee machine and cake every Monday and Wednesday.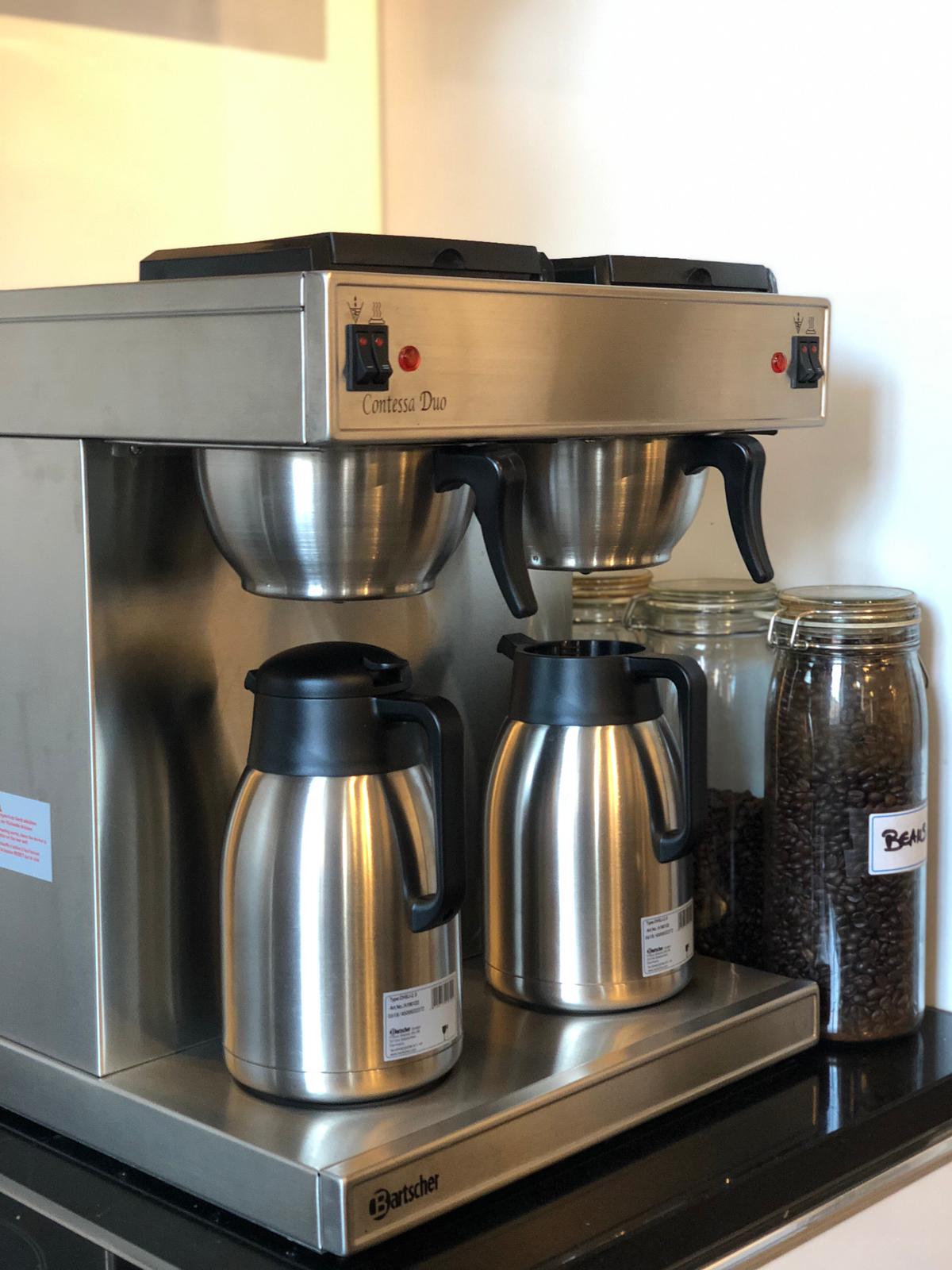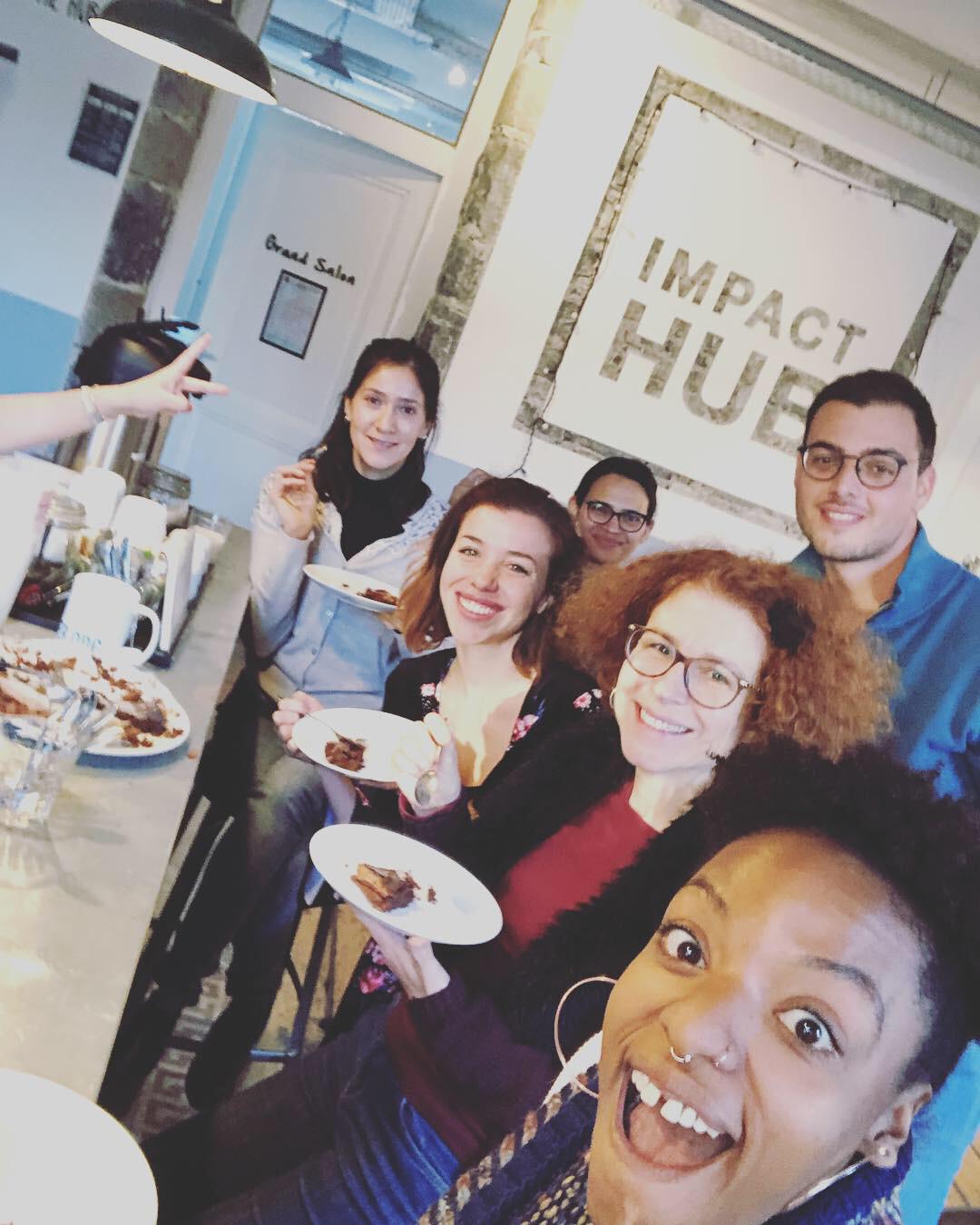 It's the most wonderful time of the year… And all the other classics!
Impact Hub loves the Christmas season as much as anybody, and it really showed at the Lausanne Christmas Market and Impact Hub Geneva's karaoke-themed holiday party last weekend. Here is a Christmas-y photo parade for you.
Impact Hub Geneva wishes Happy Holidays and a Wonderful New Year to all our members and friends!
If you miss us during the holidays, head over to the Facebook group or read more Hub Stories.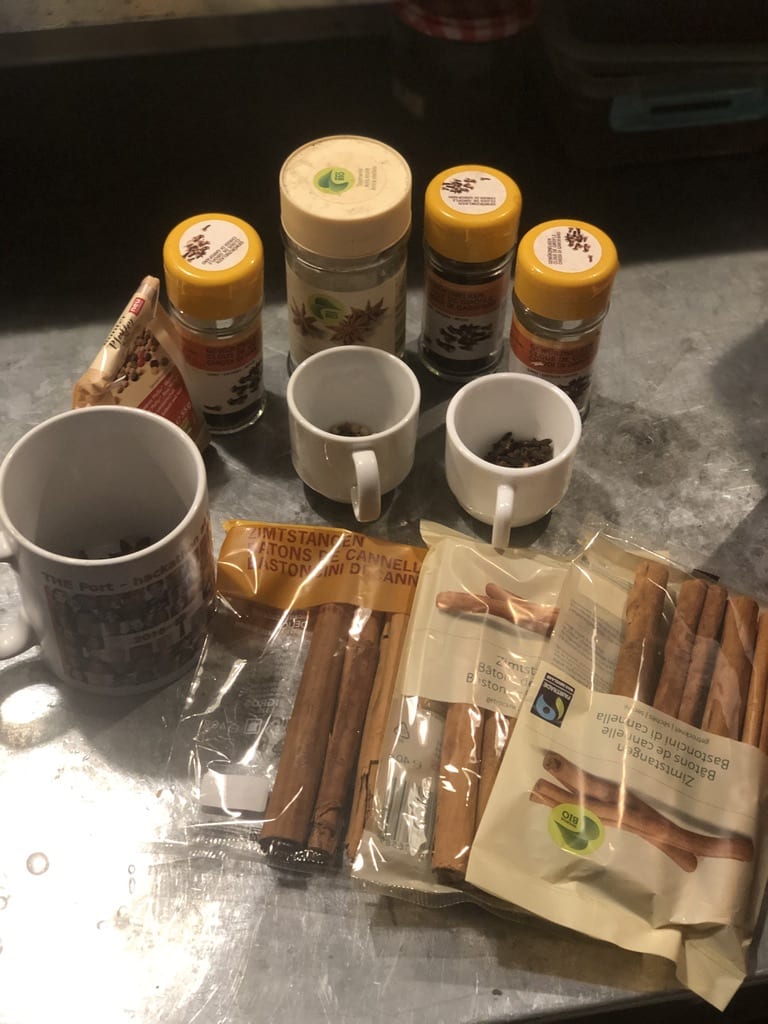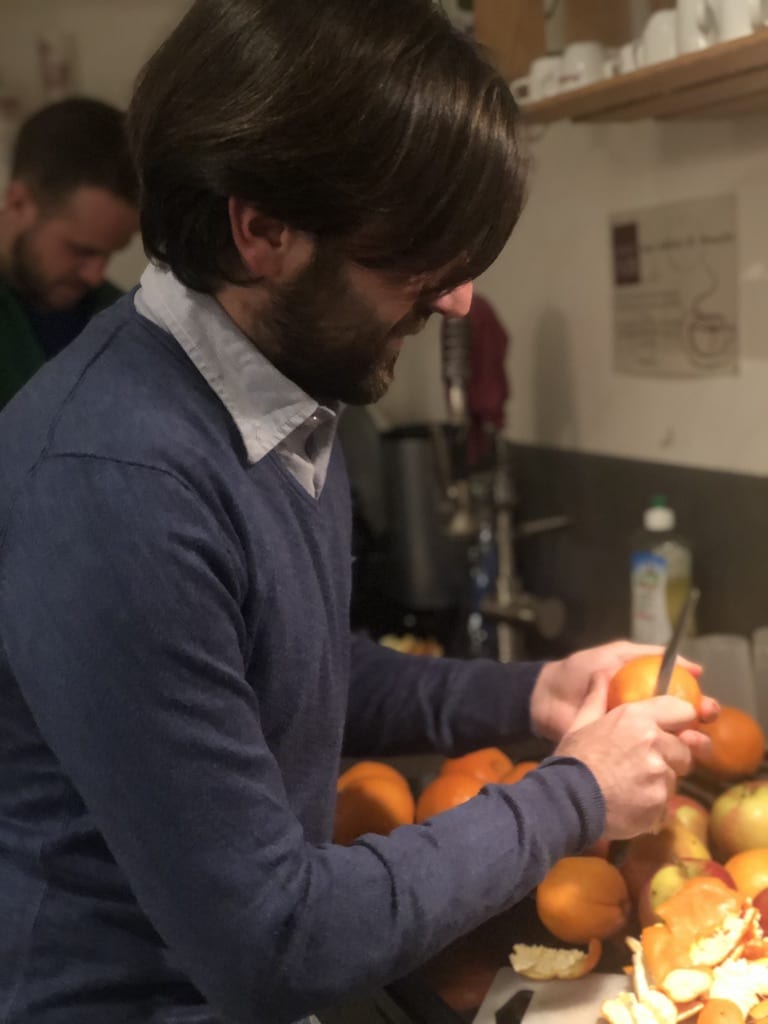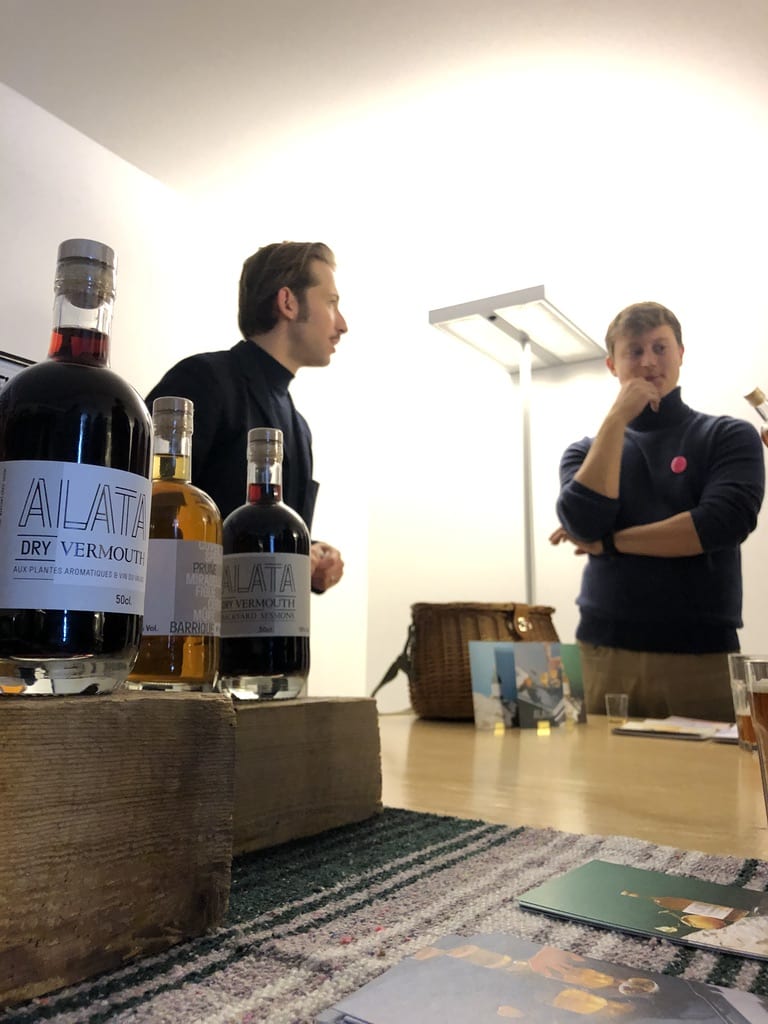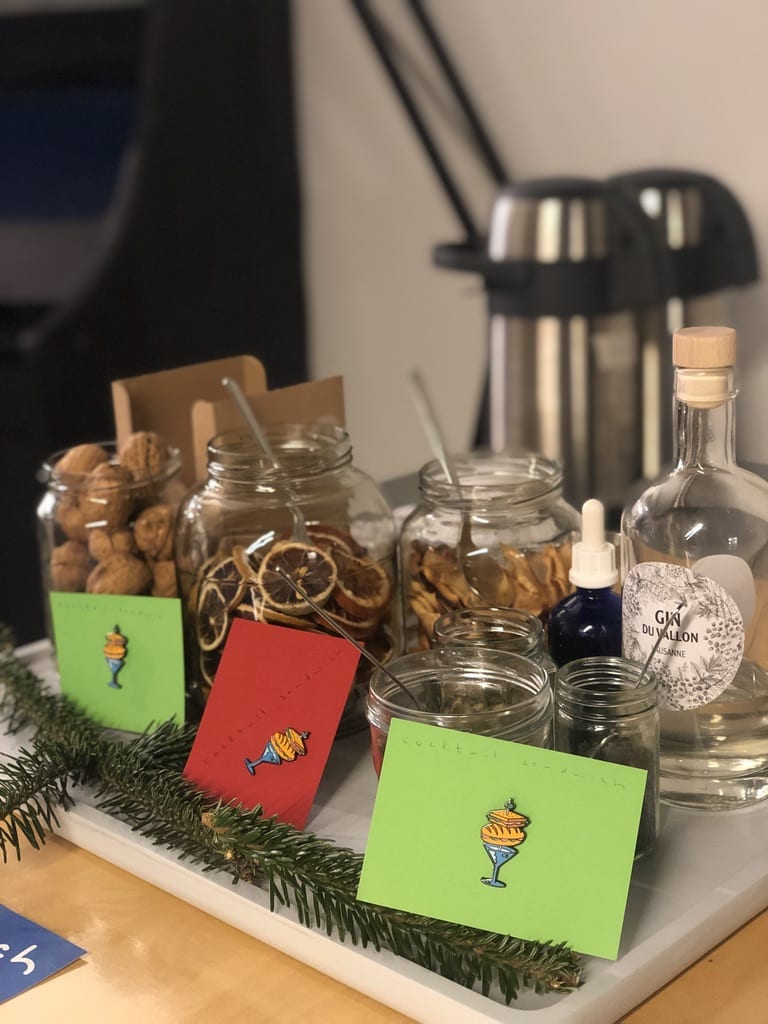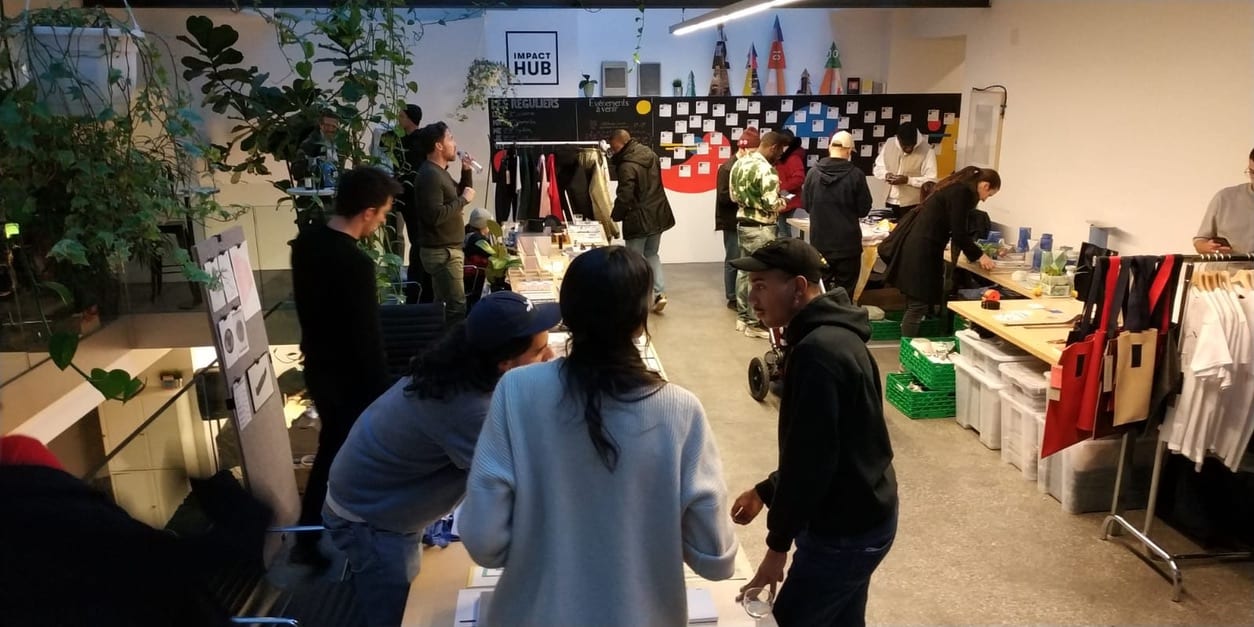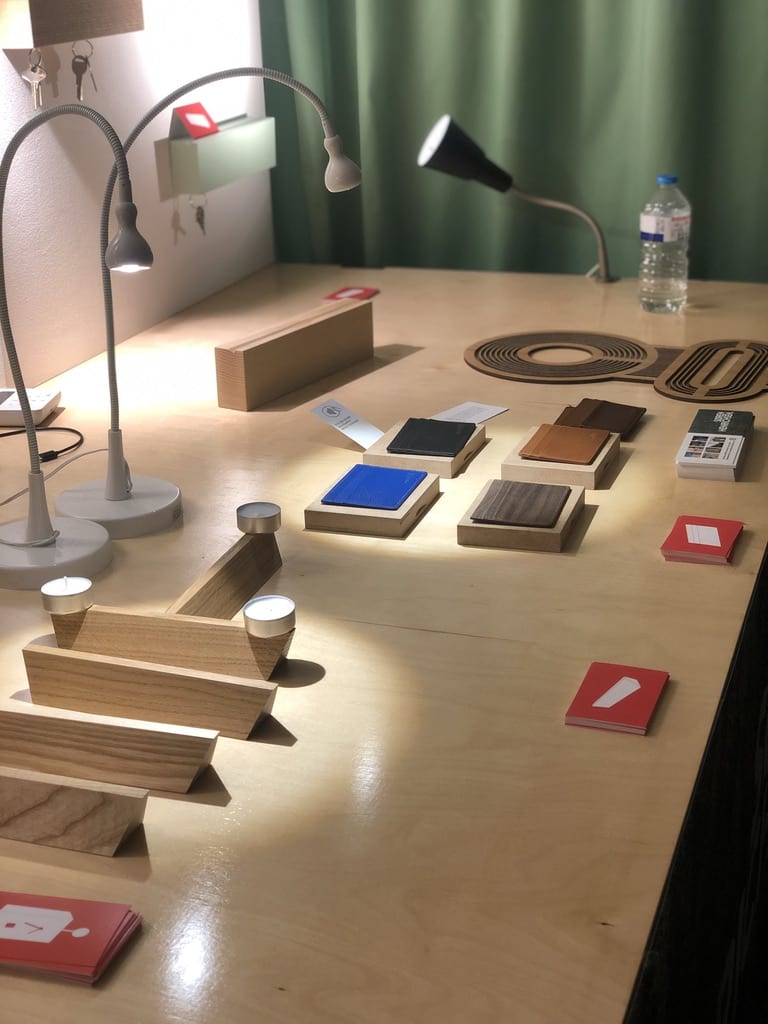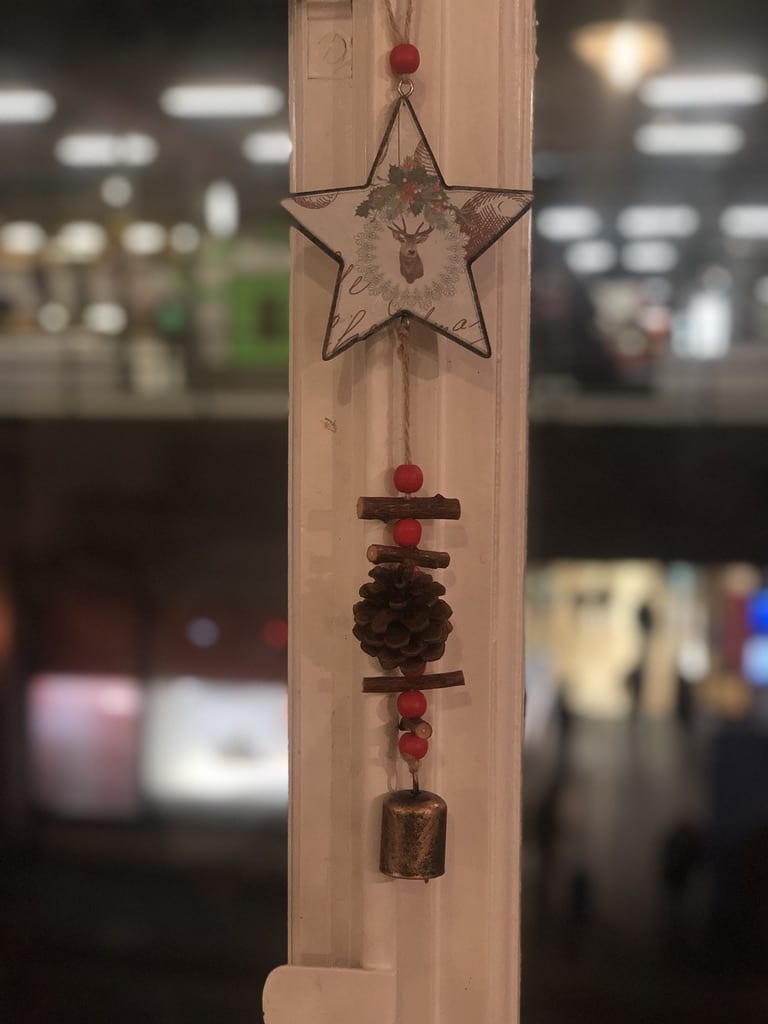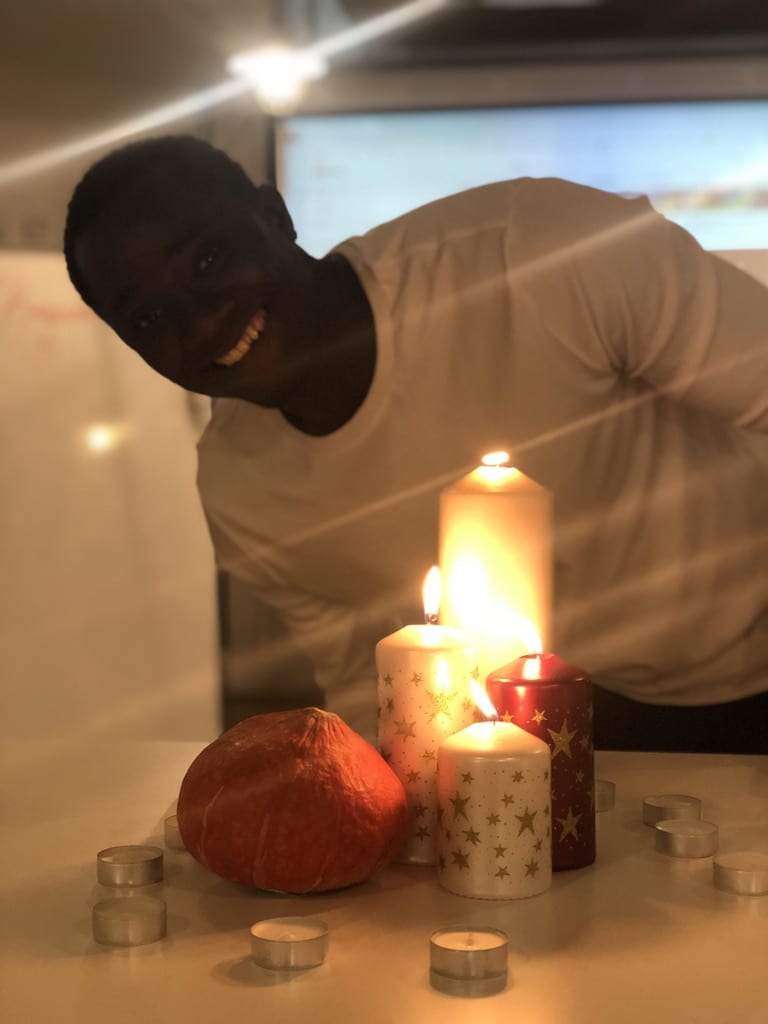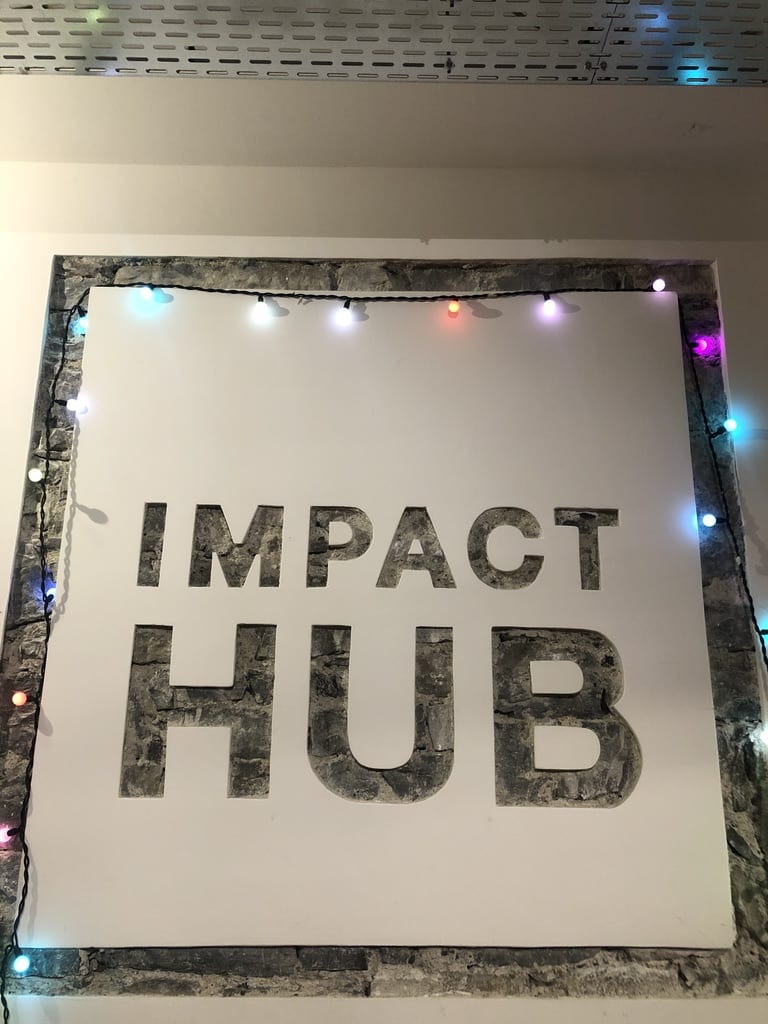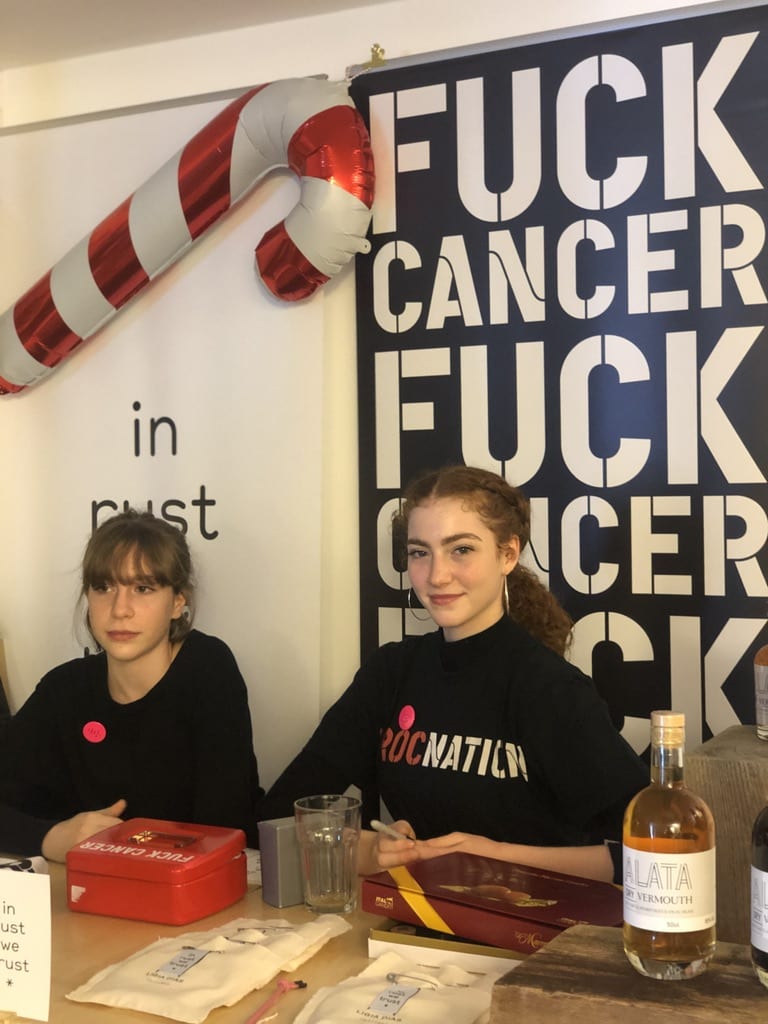 Circular Economy Incubator finalists have been chosen and the incubation can begin!
What an autumn has it been! When we announced the launch of the Circular Economy Incubator in September, we knew it was going to be wonderful; but still the pitches, their quality and innovation exceeded our expectations.
"We were very happy to see how many people were ready to tackle the challenge and how well the applicants integrated the circular economy element in their projects. Each applicant had a different angle, so it was very hard to choose the finalists", explains Mickaël Mesbauer, program co-coordinator from Impact Hub Geneva.
In the whole country, more than 130 applications were send, and the 26 finalists were selected by an external jury. Here are the selected projects from Geneva:
FlitOut attacks the challenge of un- or underused sports equipments and aims to develop a seamless renting experience for sports fans by creating a web platform that connects rental shops and customers.
Keepa wants to limit the amount of waste generated by single-use containers and offers a supply and wash system for reusable dishes that could replace the take-away containers in home delivery for example.
Konoï aspires to solve health issues with hemp products that are produced locally and organically, while regenerative economy and waste recycling are also taken into account in the process.La Corde à Linge proposes an environment friendly laundry detergent that is also sold in reusable bottles to minimise waste. The biodegradable product is produced mostly with local ingredients.
La Manivelle is a library of products you can lend and borrow. Why buy when you can share?
Le Laboratoire de Souliers aims to manufacture recyclable footwear on a large scale in Europe.
Congratulations, everyone!
"The finalists come from different backgrounds and they have entrepreneurial experience, so the project will also profit from their valuable insight. We are really looking forward to the incubation period", Mickaël Mesbauer says.
The incubation begins in January with a Meet & Match event, where the finalists are matched with their perfect mentors. Then local, regional and national trainings and workshops will follow.
Want to know more? Check out our website and subscribe to the newsletter, because the exciting news will not stop here. Next year, we will also launch a business lab for corporations and small and medium enterprises. In the meantime, you can always head over to the Facebook group for our latest updates.
Right tools and apps can save you time and money, but how to find them? Here are some of the Impact Hub Geneva's members' favorites.
1 Trello for task management
Trello is a comprehensive task and project management tool, that comes with a free plan and paid upgrades and extensions. It suits also perfectly for small teams. The big upside of Trello is that you can have under your eyes at the same time your goals and objectives and your day's or week's to do list. Things can be labeled and thus easily found. The downside on the other hand is that many practical features come with additional cost.
Good choices for teams are also Asana and Freedcamp. If you wish to find a simpler and quicker solution, try Google Keep, Anydo or Todoist.

2 Zoho for easy accounting
Zoho is an accounting and invoicing tool that makes bookkeeping so much easier, quicker and even more fun. If you hate accounting but can not invest in an accountant in flesh and blood just yet, try out Zoho or another good option, Wave, that is completely free.
3 Toggl to know where your time goes

Toggl is a time tracking tool that allows you to track where your precious hours exactly go. When you start a task, click, and when you finish, click again, and Toggl automatically generates reports for you. The tool helps anybody, because it also makes you conscious about all the little disruptions and helps you concentrate, but it is especially valuable for freelancers who wish to know how many hours a certain project or client has taken.
4 Calendly to get rid of endless scheduling emails
"Hey, could we meet on Monday?" "No, but Tuesday is good for me." "Oh, wait, another person just booked my Tuesday afternoon while I waited for your reply. Would Wednesday work after all?"
Want to get rid of all that? Me too. Fortunately there is Calendly. You can propose meeting through the app, and once it is connected to your calendar, those two take care of your planning for you.
5 Gsuite to house everything under one roof
Google's tools are all pretty good, and if you have their email, you'll probably want to enjoy their other services too. It is relaxing to have everything under the same roof and connected: your emails, calendar, documents and to do lists. For personalised email addresses you have to pay a little extra, but if you don't mind that gmail.com at the end, it is completely free.
6 Zapier for automation

Zapier makes your apps discuss with each other. Let's take an example: you create a new project in your task management app. And in a "zap" Zapier can automatically create a new invoice in your accounting app, so when the project is finished, the invoice just waits for your approval. Saves time and your precious brain cells, when you do not have to think about all that every single time.
7 Lucidchart for process planning
Lucidchart is an easy tool for mapping processes or creating mindmaps and diagrams. It pleases particularly people who like to figure things out visually.
 8 Good old paper calendar
A paper calendar has it perks. It is perfect for planning your day in detail or for timeblocking. Wait, what was that again? Stay tuned and we will be back with some time and money saving productivity hacks later.
What is your favorite tool? Tell us in the Community App or share your wisdom with other community members at 4 heures every Monday and Wednesday.
Not a member yet? Join us at 4 heures anyway and find out why Impact Hub is the best co-working space in town and enjoy your co-members' wisdom every day.
Oh, what lovely scents linger in the kitchen of Impact Hub a little bit after noon. Let's go and check out what is happening.
Hubonauts Julien, Margot and Lydia hustle in the kitchen area. Julien stirs the cauliflower that is roasting in the oven. Margot works with a beautiful, bright red pomegranate and Lydia mixes a vegetable salad.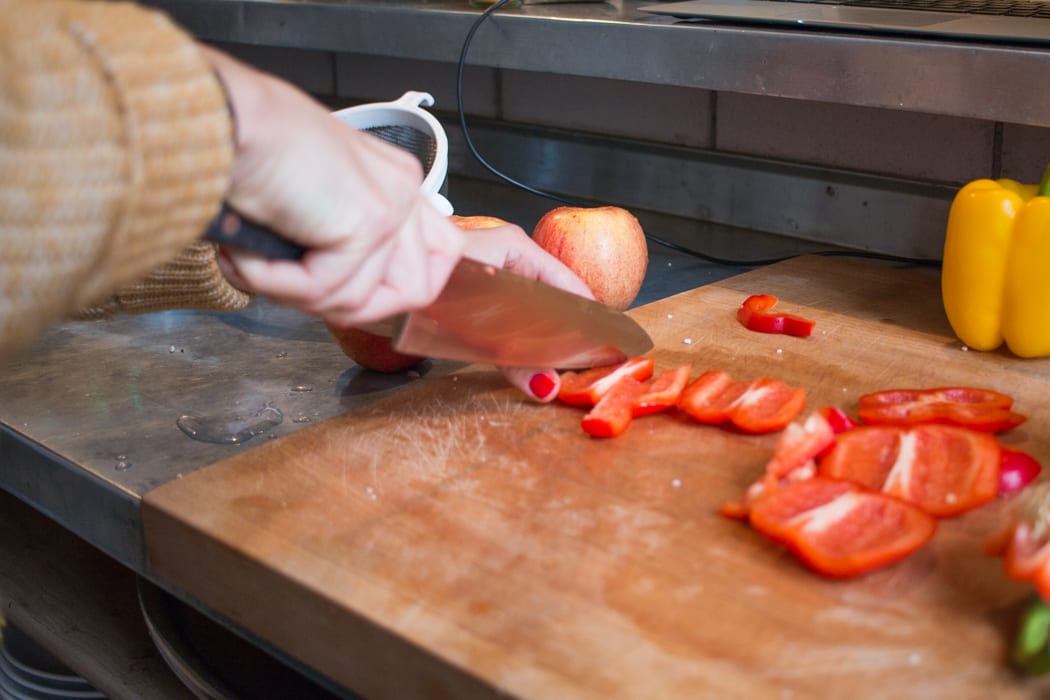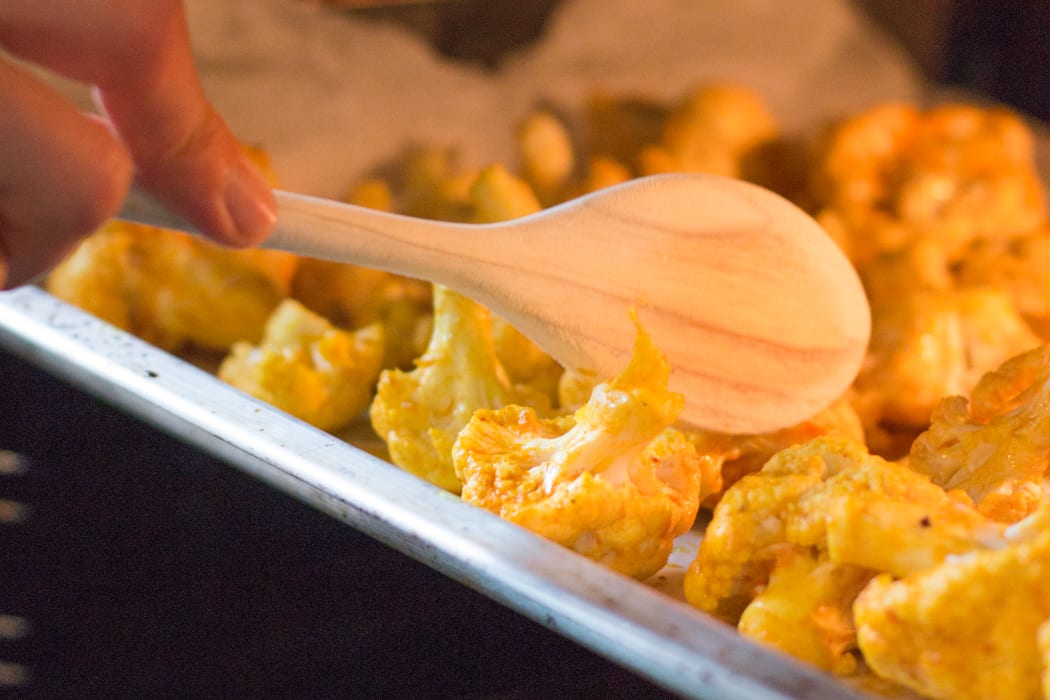 In less than an hour it begins: the Tuesday tradition of Impact Hub Geneva, Sexy Salad! It is a community potluck that gathers together members, the team and some intrigued faces who want to check out what the Hub offers to members and friends. Gathering together to share a meal is a great way for members to connect with each other and for guests to discover our community and the many projects within it, which drive the space.
Luckily, Julien, Margot and Lydia are not cooking all alone. There's cheese, apples, cake and a few other goodies brought by other participants. And that is the backbone of Sexy Salad: every participant can bring a dish of their own.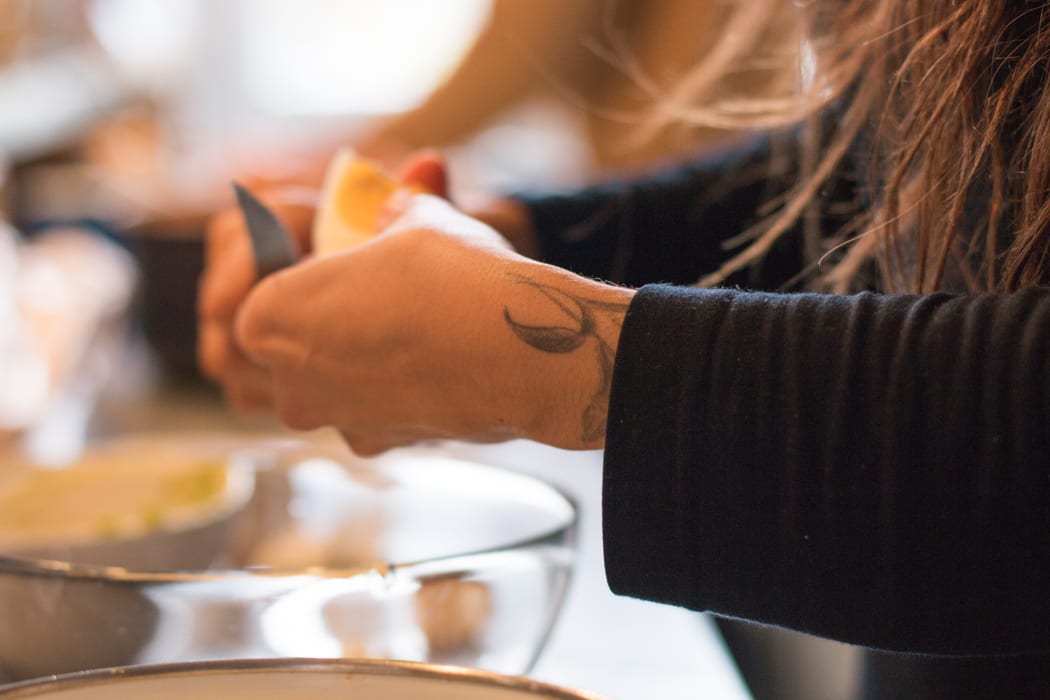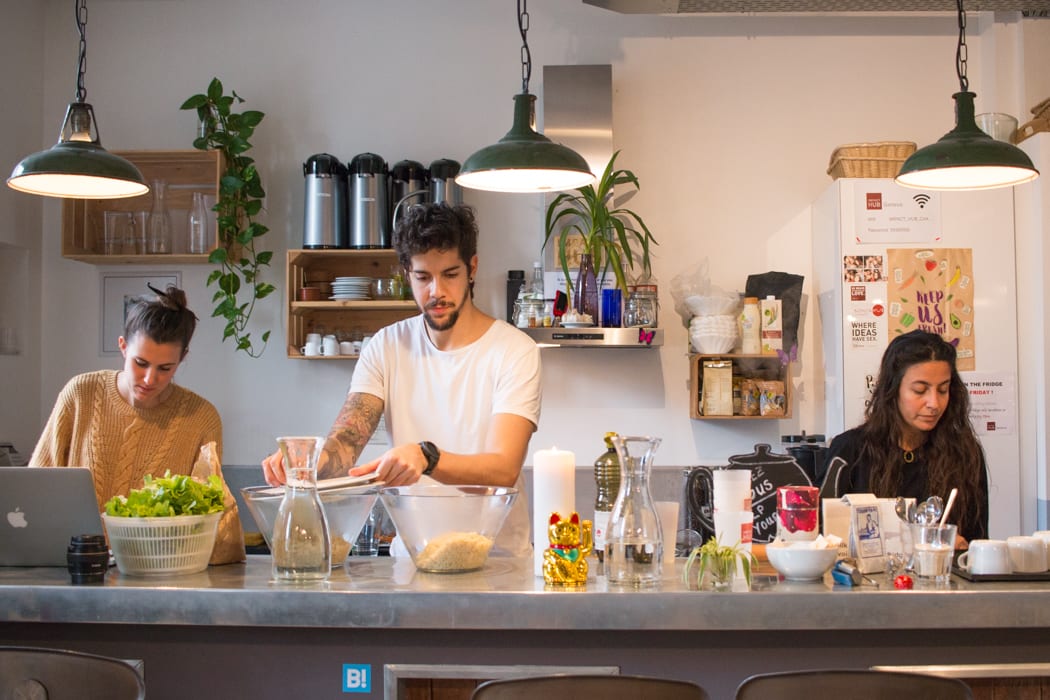 If you have not had time to cook, you can also pay a contribution of 10 francs, but I recommend bringing something. It brings more variety to the table, really creates the feeling of community and is there a better feeling than introducing your favorite dish to people and watching how they fall in love with it?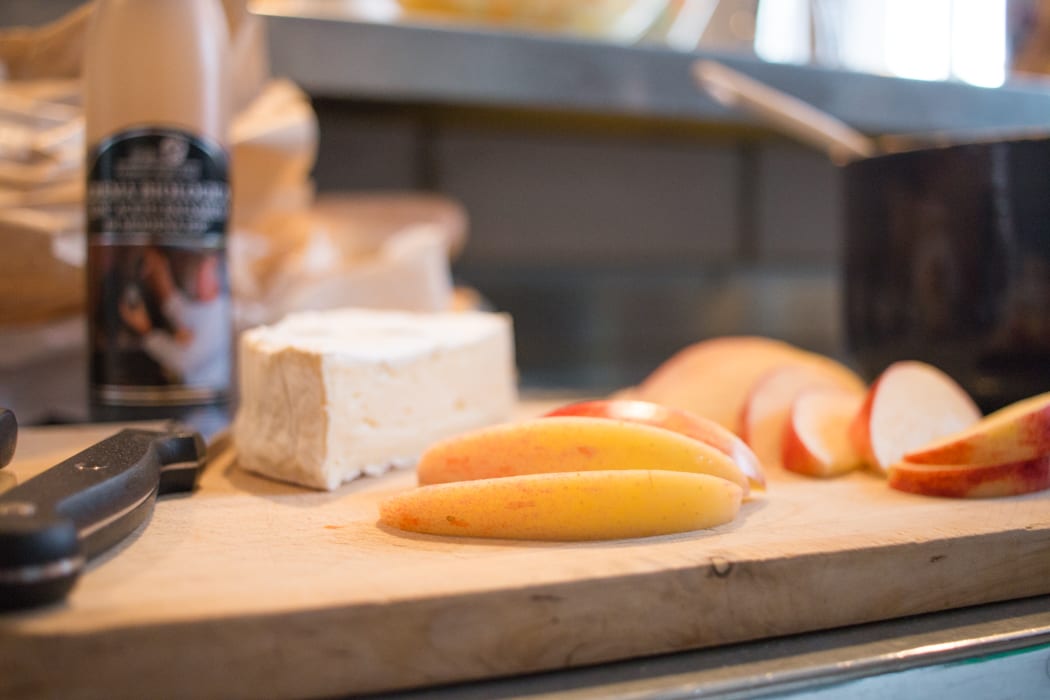 Time to get to the table. There is quinoa and fruit salad, lovely smelling cauliflower, bread, camembert, carrot salad and probably something I missed because I arrived late! Note-to-self: be there at 12:45pm sharp; the best treats disappear quickly.
Luckily I am on time for dessert. It would have been a shame to miss out on this cinnamon cardamom cake.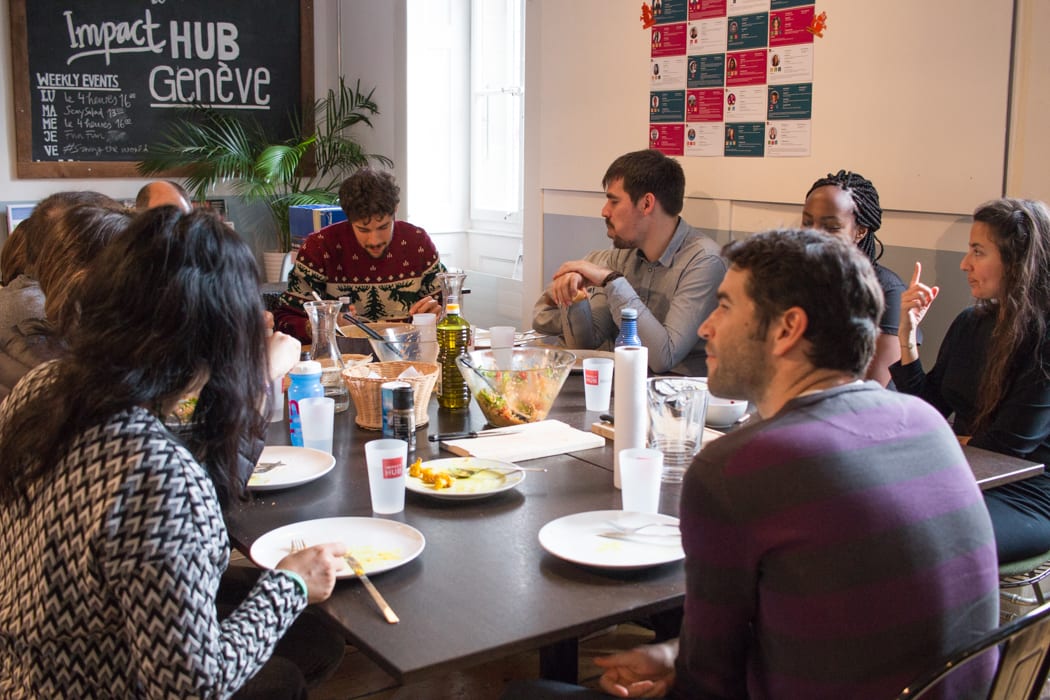 Here are 3 other reasons to love Sexy Salad, freshly from participants:
"It is perfect for networking and a good opportunity to spend a little more time with people than in other networking events."
"Of all the events, this is the one where it's easiest to have a conversation with people!"
"…the food is pretty awesome!"
Sexy Salad takes place every Tuesday at Impact Hub Geneva, Rue Fendt 1, at 12:45pm. The event is open to everyone, member or not, so it is also a perfect opportunity to check out if Impact Hub could be the perfect community for you or the new home for your enterprise. Click for more details.
To manage stress, stop fighting and welcome the unpleasant feeling.
We are a dozen of people gathered in the Boardroom at the Impact Hub Geneva, visualizing a full e-mailbox in front of us after a relaxing vacation. When we think of attacking the task, what words come to mind? 30 seconds to list them!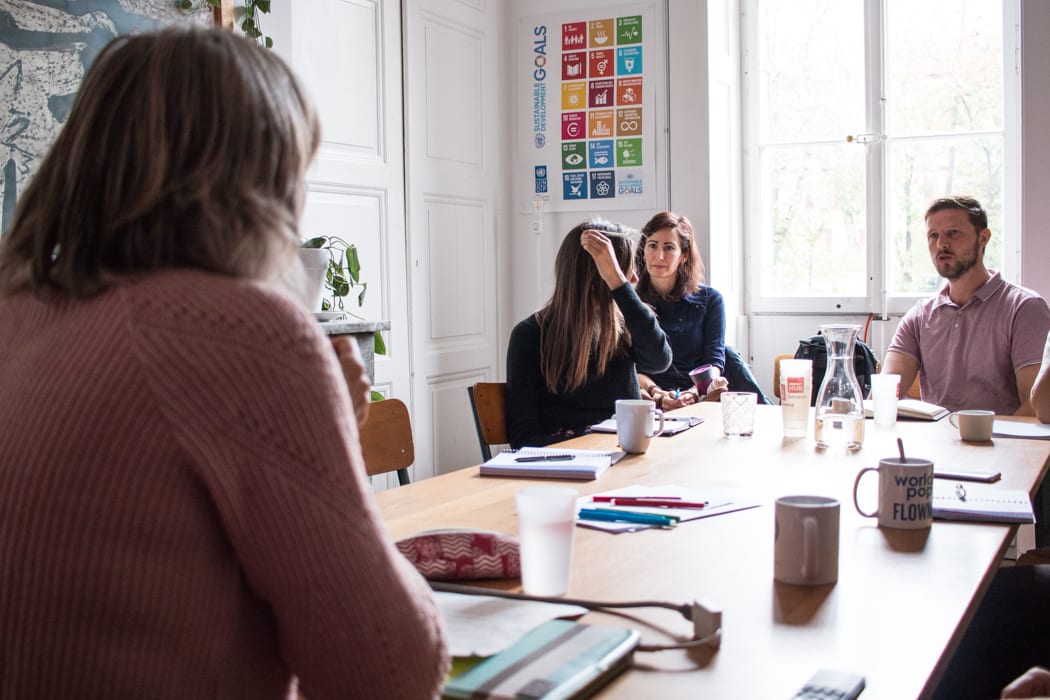 A positive psychology coach Delphine Wolf asks, how many positive and negative words came to mind. Some participants, yours truly included, managed to write down absolutely zero positive expressions.
"This is how our brain works", explains Delphine Wolf, who is here today to share her special skill; stress management.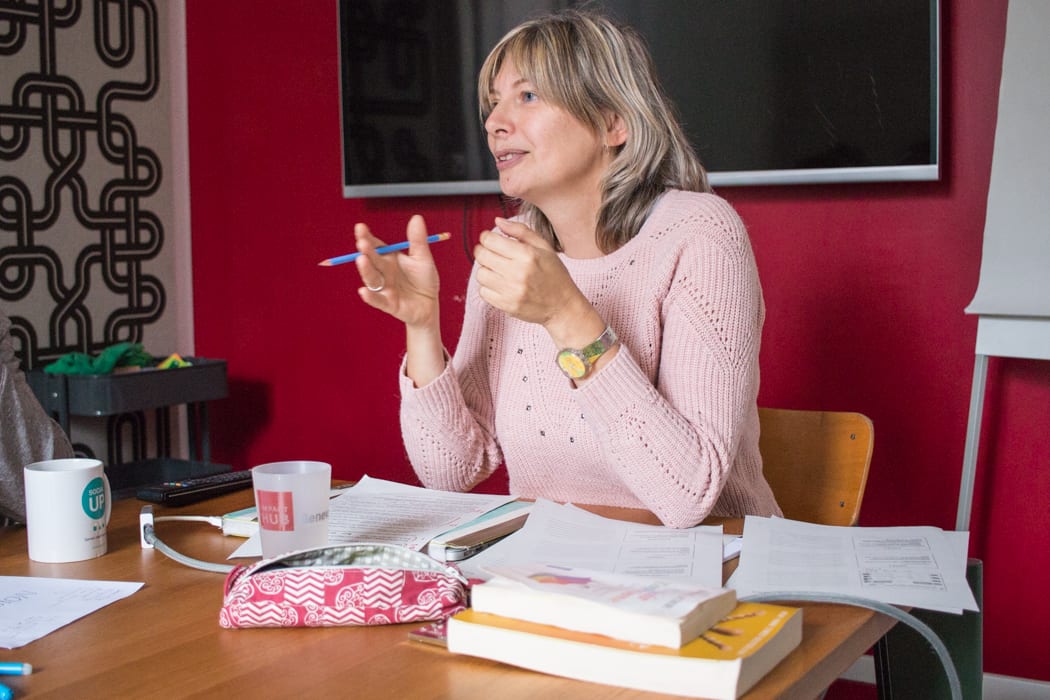 She explains that stress is often perceived as a negative thing, but there is a way to turn that around. First of all, we should stop fighting stress and welcome it. According to some studies, only 10 % of stress is due to external factors, and the remaining 90 % is actually linked to our reaction to stress. So 90% of stress is inside our heads!
Delphine Wolf explains this also in terms of external noise and internal noise. External noise can be information that is not correct, that is hypopthetical or just not useful for you at this moment – but it still affects our way of thinking and feeling. And then there is internal noise: our way to react to things.
After the skillshare I took the time to list ways to reduce noise in my life and decided to apply them from now on:
I reduce external noise that comes from interruptions: e-mails, social media etc. I check all that only 3 or 4 times a day, at dedicated moments. Not every five seconds like I usually do.

I start listing successes and positive feedback that I get. This helps me identify the positive things from the noise of negativity.

Before a demanding task, I take 2 minutes to breathe, concentrate and take a positive mindset. It is important to do that mindfully.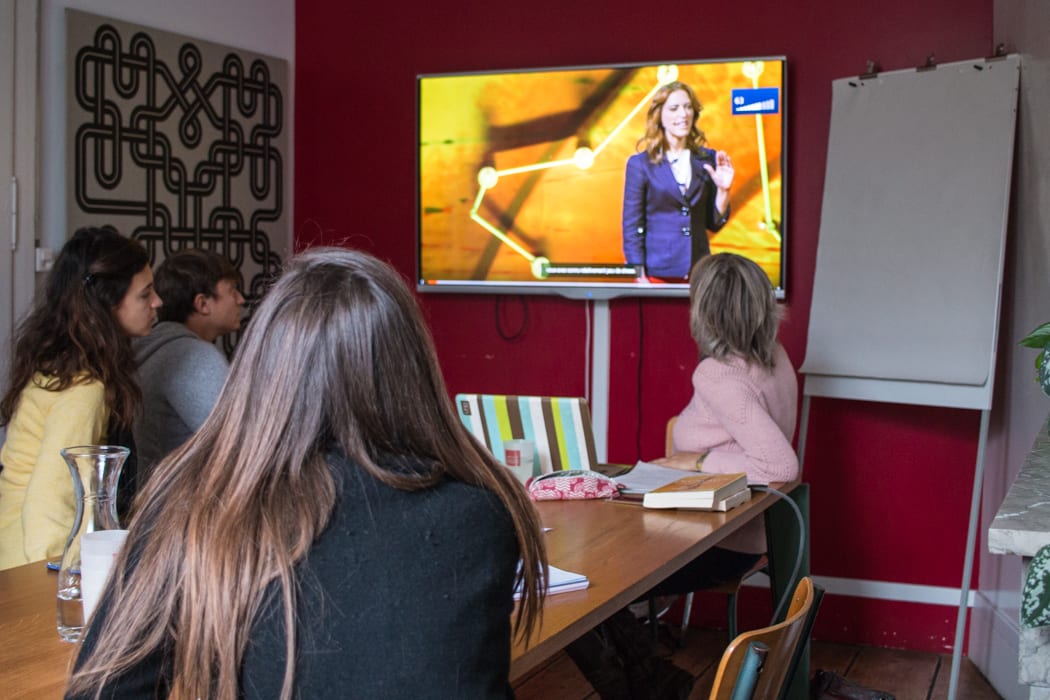 Here are some other tips from Delphine and other participants:
Take a power pose before a demanding task, like attacking that full e-mailbox or before an important meeting or job interview. Stand straight, in good posture and put your hands on your hips. Feel more powerful already, don't you?

While driving a car, spend a moment without radio. Also applicable to all of you wearing headphones every day during your train ride! Those podcasts can be inspiring, but your brain needs some rest, too.

Tune out notification sounds from your e-mail and other applications. Even better: delete those colorful pastilles, too.

Launch a positive things challenge with a friend: you both make a vocal memo every evening about the good things you have experienced that day and send them to one another.

Physical activity helps. It can be any sport you love from dancing to football.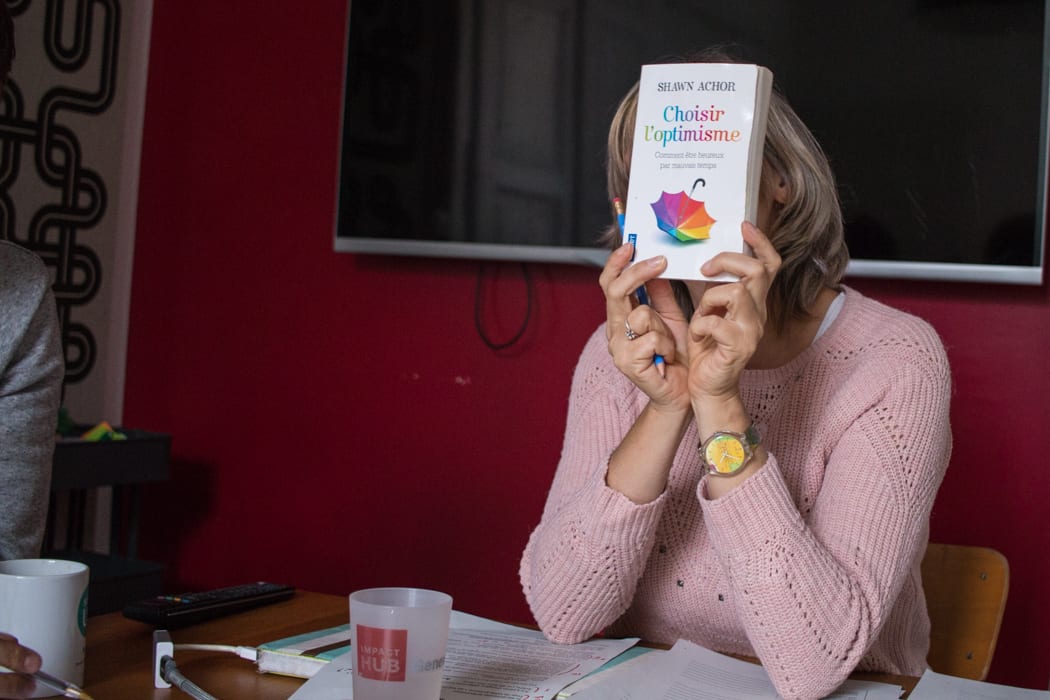 Have a subject of interest you want to discuss / share with others?
From IT to fostering collaboration, social media strategy, urban agriculture and health & wellness, we are crowdsourcing topics prior to the event: feel free to propose any subject that you think might interest others! Contact our  Community Catalyst, @Ashleigh Armstrong!
Skillshares are Impact Hub member-only events. If you want to have your share about this goodness, join our community!